1932 Summary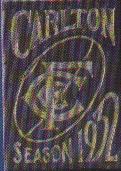 In 1932 Sir William Brunton would open the
Robert Heatley
stand, which cost 7000 pounds to build. On the field, Carlton would build on the improving form of the past 6 season, and go on to compete in our first Grand Final since
1921
.
After losing the first two games of the season, the Blues showed great form, winning 11 games straight, including wins against Collingwood, Richmond and Geelong, who had been the clubs main competition over the past few years. The club was in first place on the ladder, by percentage from South Melbourne, one of the two teams to have beaten us in the first two rounds.
The winning run was upset by a close 5 point loss at the hands of Richmond in
round 14
, but another four wins on the trot would follow to end the home and away season. The last of these games, in
round 18
, resulted in an 87 point thumping of St Kilda, a perfect confidence builder to enter the finals on. Carlton finished the regular season in top spot, half a game ahead of Richmond and one game in front of Collingwood. Both shaped to be major dangers to the Blues in the finals, Collingwood having won four straight flags between 1927 and 1930, and Richmond having knocked Carlton out of the finals three years running (1927-1929). Geelong, who had won the last two Grand Finals, slipped out of the top 4 and finished in fifth place.
Carlton would enter the second
Semi Final
against Richmond having split their home and away games. Richmond had proven to be Carlton's bogy side though in the late
1920's
and early
1930's
. It appeared that the Blues might have finally gotten over this when they jumped the Tigers in the first quarter, kicking 5 goals to 1 to open up a 24 point lead. By three quarter time, Richmond had pulled the deficit back to 13 points, and went on to win the match by 25 points (18.16 124 to 14.15 99) by kicking 8 goals to 2 in the last term.
In the
Preliminary Final
Collingwood opened up a 6 point lead at the first break, but a 7 goal to 3 second term gave the Blues a 14 point buffer at half time. Carlton destroyed Collingwood in the third quarter, kicking 10 goals to 3 to destroy the game as a contest. Two unanswered goals in the final term saw the Blues 75 point winners (23.19 157 to 11.16 82) to set up a rematch with the Tigers for the flag.
The
Grand Final
lived up to expectation and was close all day, but unfortunately Richmond maintained a slender lead at every break to run out 9 point winners (13.14 92 to 12.11 83). This Grand Final was near the end of our 23 year Premiership drought (between 1915 and 1938, a period in which we would play in three losing Grand Finals -
1916
,
1921
and
1932
.
Blues legend
Harry Vallence
would come as close as he ever would to kicking 100 goals in a season, falling horribly short, by only 3 goals. Vallence was a mainstay of the Blues forward line from 1929 onwards.
Ladder
| | | | | | | | | |
| --- | --- | --- | --- | --- | --- | --- | --- | --- |
| Pos | Team | Wins | Draws | Losses | Points | For | Against | % |
| 1 | Carlton | 15 | 0 | 3 | 60 | 250.303.1803 | 182.216.1308 | 137.8 |
| 2 | Richmond | 14 | 1 | 3 | 58 | 211.260.1526 | 148.208.1096 | 139.2 |
| 3 | Collingwood | 14 | 0 | 4 | 56 | 237.222.1644 | 202.261.1473 | 111.6 |
| 4 | Sth Melbourne | 13 | 0 | 5 | 52 | 213.253.1531 | 178.229.1297 | 118 |
| 5 | Geelong | 11 | 1 | 6 | 46 | 260.265.1825 | 179.232.1306 | 139.7 |
| 6 | Essendon | 10 | 0 | 8 | 40 | 207.246.1488 | 203.226.1444 | 103 |
| 7 | Footscray | 9 | 0 | 9 | 36 | 167.227.1229 | 164.204.1188 | 103.5 |
| 8 | Nth Melbourne | 8 | 0 | 10 | 32 | 217.233.1535 | 227.219.1581 | 97.1 |
| 9 | Melbourne | 4 | 0 | 14 | 16 | 180.201.1281 | 236.259.1675 | 76.5 |
| 10 | Fitzroy | 3 | 0 | 15 | 12 | 193.203.1361 | 255.256.1786 | 76.2 |
| 11 | St Kilda | 3 | 0 | 15 | 12 | 175.213.1263 | 247.271.1753 | 72 |
| 12 | Hawthorn | 3 | 0 | 15 | 12 | 140.194.1034 | 229.239.1613 | 64.1 |
People of 1932
Captain:
Colin Martyn
Coach:
Dan Minogue
Leading Goal-kicker:
Harry Vallence
- 97 goals (new club record)
Milestones
Debuts:
Keith Shea
,
Ron Cooper
,
Horrie Bullen
,
Jim Park
,
Charlie Street
,
Ralph Green
,
Frank Walshe
,
Jim Williamson
,
Gordon Mackie
,
Leo Opray
,
Jack Young