| | | | | | | | | |
| --- | --- | --- | --- | --- | --- | --- | --- | --- |
| Carlton | 4.4 | 28 | 6.10 | 46 | 11.13 | 79 | 12.16 | 88 |
| Collingwood | 2.1 | 13 | 7.3 | 45 | 8.3 | 51 | 10.4 | 64 |

Venue: Princes Park
Date: Saturday July 2, 1921
Result: Won by 24 points
Umpire: McMurray
Crowd: 35,000/52,000* Takings: 890 pounds
Goalkickers: H.Clover 6, G.Green 2, P.Daykin 1, A.Duncan 1, S.McLatchie 1, H.Morgan 1.
Best: B.Boromeo, R.Hiskins, H.Clover, A.Duncan, C.Canet, McLatchie, W.Raleigh, P.O'Brien, W.Morgan
Reports:
Injuries: L.Downs (shoulder) moved to the forward line
Game Review
Ernie Jamieson
Returns
Jamieson returned to the Carlton line up after a 5 year absence.
He fractured his arm in the
Preliminary Final, 1916
and with further complications it seemed his football career was over.
Ernie would go on and play 11 of the 12 remaining games this season including the Grand Final. He then played 4 games next season before retiring in
Round 5, 1922
where he was acting captain.
In this top-of-the-table clash, the Blues easily beat the Magpies and claimed outright ladder leadership.
Huskies? - the reporter twice refers to Carlton as the huskies. Although it is not spelt with a capital letter as the Magpies are.
"Forty-five thousand* people saw the Carlton huskies out bump Collingwood on Saturday. The big men won the game for the Dark Blues by sheer weight. Clover, up on the forward line, was magnificent, and on the day was a veritable champion. He, as much as anyone, was the dominant factor in the third quarter, when he booted four goals with punts and drops, and marked every old way, twisted and turned, and completely changed the outlook in that quarter, and put Carlton in a safe position.
Coventry, of Collingwood, scored the first goal after exhilarating play by the dashing Toumey. Curtis quickly repeated the success. Fisher was early noticeable in strenuous endeavour, and scorned to dodge when weight would carry through. Green, for Carlton, was clever, and Saunders, of Collingwood, great in defence. Drummond, on the wing, was a bright particular football star, and big Boromeo was marking splendidly.
Play was up and down the ground like lightning, and Daykin scored a goal from a place shot. Collingwood attacked with celerity, and Jamieson "a comeback," repulsed well. Boromeo carried on, and Green and Greenhill each scored a goal. A lovely pass from Curtis to Lee, and the champion forward scored well.
At quarter time the scores were:-
Carlton 4 goals 4 behinds
Collingwood 2 goals 1 behind
Collingwood bounced into the game with their famous system, and Con McCarthy booted a goal. Pannam shone out in tricky work. Coventry annexed another goal, and then the great Lee quickly added two more. Then the crowd roared with excitement. Carlton were at this period outclassed, but Duncan obtained a fluke goal, and then the shock tactics were commenced. The huskies threw themselves into the fray. Paddy O'Brien, at a pinch, was defending in remarkable fashion. It was all O'Brien, and he stemmed the Magpie onslaughts time after time. Curtis, of Collingwood was hurt in a melee, and retired with bruised ribs. At half-time Carlton had a point lead only, although all the honors had been with Collingwood.
Scores:-
Carlton 6 goals 10 behinds
Collingwood 7 goals 3 behinds
After the interval,
Harry Curtis
of Collingwood, did not reappear, while Downes, whose shoulder was hurt, was almost useless for Carlton. The home team now took possession and outslugged 'Wood, and Clover came into his own and did as he liked. Daykin, Morgan, Fisher, and Boromeo all scored, and Coventry for Collingwood, snapped another; but it was seen that the Dark Blues held control, and in the last quarter it was just a case of how much Carlton would win by. Lee obtained a goal right at the termination of hostilities.
Scores:-
Carlton 12 goals 16 behinds
Collingwood 10 goals 4 behinds
Boromeo, Hiskins, and Clover were the best for Carlton."
(Advocate July 07 p22)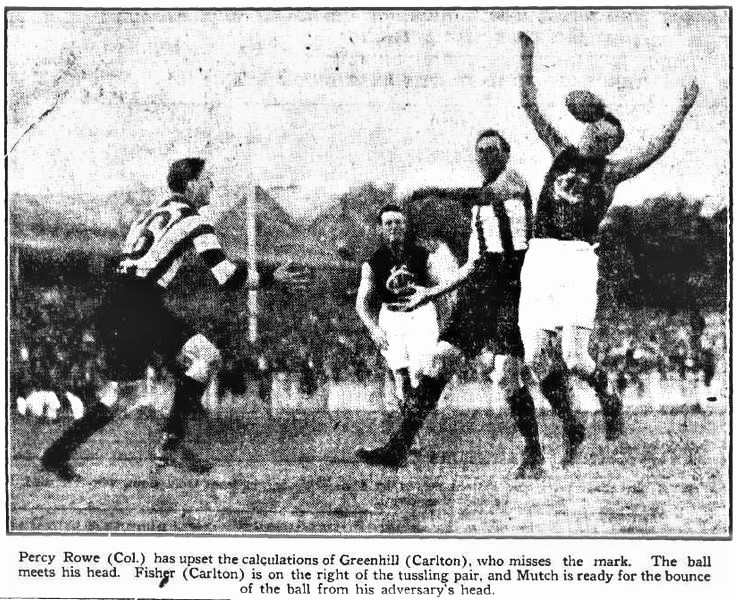 Image: Herald July 02 p2
Note:
Collingwood were one player down from half time. Former Carlton player
Harry Curtis
was believed to have suffered a broken rib and did not return to the field.
Later in the week it was found to be a bruised lung.
* Crowd
The Weekly Times September 09 1942 (p22);
"Largest attendance at a Carlton football match was 52,000 Carlton v Collingwood, July 2 1921. Estimated capacity of the ground 60,000."
The Herald (sporting edition Sept 17 p1 1921) reporting on the return Round 18 match at Victoria Park said Rnd 9 was the record crowd to attend a home and away match and the crowd was 52,000.
This match is remembered for its tragic aftermath, when star Carlton rover
Lyle Downs
collapsed and died at training the following Thursday evening. Downs had played for three years knowing that he had a weak heart, and that he was taking a grave chance by continuing his football career - but chose to do so.
On the following Sunday afternoon, more than two thousand mourners paid their last respects when Downs was laid to rest at Carlton cemetery.
At the end of this round Carlton were in 1st spot on the ladder with a percentage of 128.5.
Team
B:
19 Fred Johnson
4 Ernie Jamieson
27 Bert Boromeo
HB:
18 Wally Raleigh
10 Paddy O'Brien
6 Jack Greenhill (vc)
C:
12 Charlie Canet
13 Billy Blackman
28 Lyle Downs
HF:
7 Charlie Fisher
1 Horrie Clover
20 Alex Duncan
F:
2 Percy Daykin
23 William Morgan
16 Gordon Green (c)
Ruck:
25 Frank Martin
5 Rupe Hiskins
21 Stewart McLatchie
Coach:
Norman Clark
Milestones
Last game:
Lyle Downs
---
Round 8
|
Round 10