At Carlton : 1966 - 1967
Reserves Games : TBA
Reserves Goals : TBA
Height :
Weight :
Guernsey Nos. 35 (1966), 49 (1967) and 54 (1967)
DOB : 1948
Derrin J. Skidmore pictured left in the thirds 1967 team photo was a slenderly-built defender who played Under 19 and Reserves grade football at Carlton during the late sixties, he was cleared to Carlton from local club St Marks in Fawkner on the April 23, 1966 which was located in Carlton's local recruiting zone.
Derrin Skidmore had a very good first season at Carlton and was awarded the Special Trophy Award for his efforts throughout the year. It wasn't just his footballing talent that was obvious in his first season but he also demonstrated excellent leadership qualities at a young age as he was bestowed the honour of the U/19's vice-captaincy for the Blues during the 1967 season. The 1966 team was a strong team that featured future Carlton premiership stars.
1966 Thirds;
- Skidmore was one of only four players to play 16 games which was the highest number of games played in Carlton's Thirds during 1966 by any Carlton player from their 18 games home and away games that season. The the other 3 were players
Stephen Peter-Budge
(from Doncaster U16's in 1966 to Preston 1971), Kevin Rinaldi (from Ballarat YCW to Carlton in 1963 and to Bungaree in 1967) & Tony Salvatore (from Oak Park 1964 to Yarraville 1967).
- Skidmore was listed in the best players on 6 occasions in Rd 3 (Fitz Win), Rd 4 (Ess Lost), Rd 5 (Melb Lost), Rd 7 (Geel Lost), Rd 10 (NM Lost) and Rd 11 (Coll Lost), as a defender he didn't feature in the goalkicking.
- The Carlton thirds that season would finish in 8th position with 6 wins and a percentage of 80.6.
- There were 46 players used in the Thirds during 1966 (including
Bruce Doull
(who broke his arm in Rd 1 his only game for 1966),
Robert Walls
and
Doug Baird
(all were 15 years old)).
- C. Skidmore (possibly his father?) was on a list for the 3rd's list of thank you's for their help during the season
1967 Third's;
- Carlton Thirds finished 9th in 1967 with 7 wins and a percentage of 99.3% with Carlton playing their Third 'home' games at Fitzroy ground during 1968 (with Fitzroy using Princes Park s their 'home' ground in 1967).
- Skidmore was listed in the best players on one occasion in Rd 2 (Haw Win), he was not listed as a goalkicker (this season he played more reserve grade football than the previous season).
- The club did not compile a list of the total number of 3rds players who played games in the thirds team in 1967. The list shortened list only named the players who played 8+ games in the thirds and they were listed in the 1967 Annual Report which included future senior premiership players in
John O'Connell
(13 games),
Phil Pinnell
(16 games),
Bruce Doull
(15 games) and
Andy Lukas
with 15 games).
- In 1967 Carlton played 53 players in the Reserves team in their 18 games (Carlton Reserves finished 9th in 1967 with 7 wins and a percentage of 80.9).
- In the Reserves during 1967 on three occasions Skidmore was named in the best players in Rd 5 (St K Lost), Rd 10 (Foot Lost) and Rd 11 (Ess Won).
- Listed among 'The boys to show good form (in the Reserves during 1967) were
Peter Dyring
,
Doug Baird
,
Derrin Skidmore
,
Stephen Peter-Budge
,
Kerrin Lawson
,
Greg Britt
and
Robert Wyatt
and the experience gained by them must augur well for the future.'
- C. Skidmore (possibly his father?) was on a list for the 3rd's list of thank you's for their help during the season
Derrin Skidmore played some reserve grade football with the Blues but opportunities were limited so a request was made to be cleared to rival VFL club South Melbourne on April 13, 1968. He played the year at South Melbourne in the reserves and in Round 17, 1968 he lined up against Carlton and was listed in Number 48 (August 10).
Skidmore then request to be cleared from South Melbourne to Castlemaine on April 16, 1969 but 12 days later cleared from South Melbourne to Brunswick on April 28, 1969. Its unclear why the change in plans to choose the Brunswick Magpies over the Castlemaine Magpies, possibly the travel was the main factor.
In 1971, he joined VFA front-runners Brunswick, and over the next five seasons was prominent as a running half-back flanker. Skidmore would play in the 1972 Reserves premiership side with Brunswick when they went through the entire season undefeated. He would then feature at senior level in the next three 2nd Division Grand Finals for the Association Magpies. Brunswick were no match for Caulfield in 1973, and the following year were thrashed by Coburg in the 1974 Grand Final. But in 1975 the Wicks triumphed at last; comfortably defeating Camberwell by 47 points at Toorak Park, with Skidmore and two other ex-Blues in
John Warden
and
Doug Baird
among their team's best players. Skidmore was vice-captain for Brunswick during the 1976 season.
Derrin Skidmore would successfully coach the Brunswick Reserves to a hat-trick of premierships in the VFA's Division 2 competition when they won the 1983, 1984 and 1985 premierships. He took the reserves team to the Division 1 finals in 1987.
1966 Derrin Skidmore.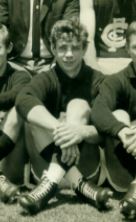 Career Highlights
1966 - Under 19's Special Trophy Award.
1967 - Under 19's Vice-Captain.
1967 - Carlton Thirds Players; Derrin Skidmore, Maurice Gale & Kerrin Lawson - Construction of the George Harris Social Club at Princes Park.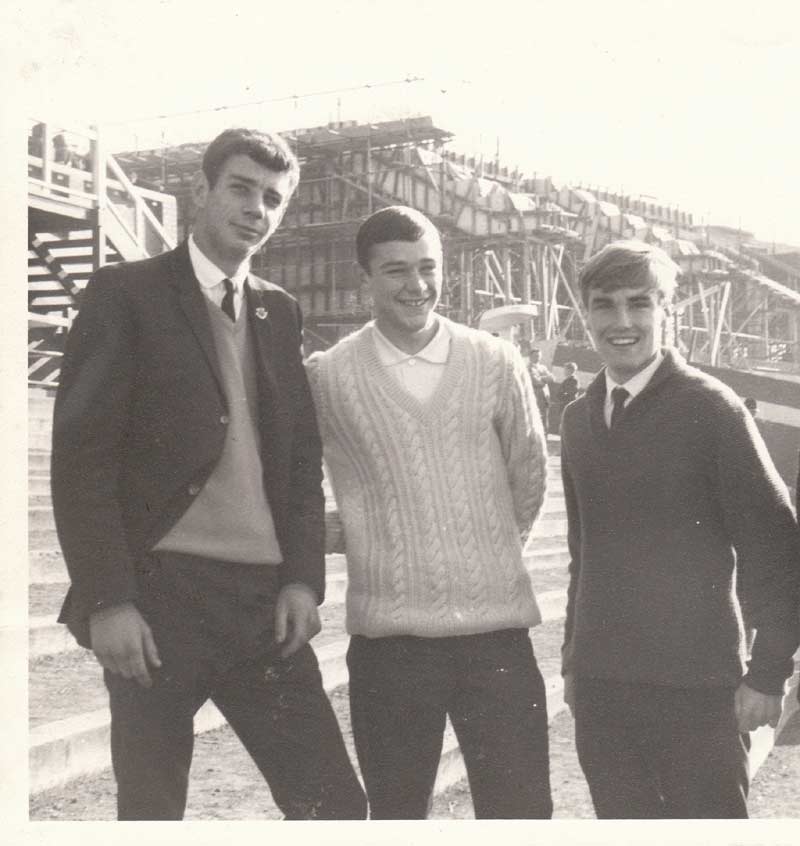 1975 Brunswick VFA 2nd Division Senior Premiers; Front Row second from left Derrin Skidmore.