Summary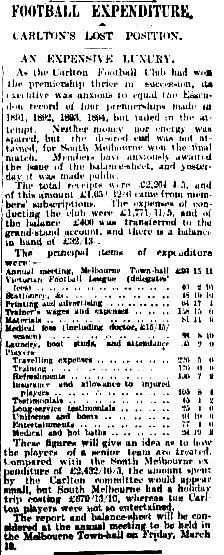 Carlton Football Club went within one kick of winning their fourth straight VFL Premiership in 1909, when they were beaten by two points by South Melbourne in an excruciatingly close
Grand Final
. Still, coming amid an unprecedented run of six Grand Finals in seven years, the Navy Blues continued to enhance their standing as the most powerful club in the competition.
Sadly, the club was wracked with infighting during the season, and this had ramifications on the field. Midway through the year, some senior players felt that they were being trained excessively by their coach,
Jack Worrall
, and aired their concerns with the club committee. When the dissatisfaction became public, and attempts to have him removed gained traction, Worrall resigned on July 29, "for the sake of the club".
Ironically, many of the same player group had been responsible for his reinstatement after his original dismissal in
1904
. On that occasion, Worrall had been removed by a coup at committee level, but his supporters then forced a snap election that swept his detractors from power. Worrall was recalled, and took the club to triple premierships in 1906-07-08. This was a magnificent achievement, but the disruption of those early events undoubtedly harmed Carlton's Premiership chances in 1904 and 1905.
Fred "Pompey" Elliott
, club captain and great player, took over as captain-coach after Worrall's departure, and the Blues finished second on the ladder to South Melbourne following the home and away rounds. Both teams had an 18 win, 4 loss record, but South had a marginally better percentage (165.1 to 161.2) to give them top place and a vital advantage – as we shall see.
Carlton began their finals campaign with a 36-point defeat of Essendon in the first
Semi Final
to pave the way for a tough and willing
Preliminary Final
against South Melbourne. The Southerners lost a couple of their better players to injury in that clash, and the Blues emerged victorious by 22 points. Had Carlton finished the regular season on top of the ladder, that result would have seen the Blues win four flags in a row. But South had finished on top, and under VFL rules at the time, this gave them the right to challenge Carlton for the Premiership if they lost in the Preliminary Final. Of course, this is exactly what they did, and in a fast, open and thrilling contest, the Lakesiders held on to beat the reigning champions by one kick to claim their first VFL pennant. Therefore, depending on how you look at it, Carlton missed out on winning four consecutive flags in 1909 by either 3.9 % or 3 points!
Whether the change of coach made any difference to the result is debateable, because Carlton won every game between Worrall's resignation and the Grand Final. South Melbourne showed that they had learned a lot from their Preliminary Final defeat, and their innovative tactics and pace in the decider brought them a rich reward.
Another significant event in 1909 was the opening of the
Gardiner Stand
at Princes Park.
To read about the proposed new grandstand click here>
http://nla.gov.au/nla.news-article10713788
Ladder
| | | | | | | | | |
| --- | --- | --- | --- | --- | --- | --- | --- | --- |
| Pos | Team | Wins | Draws | Losses | Points | For | Against | % |
| 1 | Sth Melbourne | 14 | 0 | 4 | 56 | 165.172.1162 | 91.142.688 | 168.9 |
| 2 | Carlton | 14 | 0 | 4 | 56 | 161.208.1174 | 109.146.800 | 146.8 |
| 3 | Collingwood | 12 | 2 | 4 | 52 | 144.206.1070 | 112.149.821 | 130.3 |
| 4 | Essendon | 11 | 0 | 7 | 44 | 146.200.1076 | 118.176.884 | 121.7 |
| 5 | Melbourne | 10 | 1 | 7 | 42 | 145.153.1023 | 129.188.962 | 106.3 |
| 6 | Fitzroy | 8 | 1 | 9 | 34 | 127.183.945 | 126.174.930 | 101.6 |
| 7 | University | 7 | 2 | 9 | 32 | 116.206.902 | 121.175.901 | 100.1 |
| 8 | Richmond | 6 | 0 | 12 | 24 | 112.153.825 | 178.214.1282 | 64.4 |
| 9 | Geelong | 2 | 0 | 16 | 12 | 114.168.852 | 183.203.1301 | 65.5 |
| 10 | St Kilda | 3 | 0 | 15 | 8 | 89.136.670 | 152.218.1130 | 59.3 |
People of 1909
Coach:
Jack Worrall
(replaced during the season by
Fred Elliott
)
Captain:
Fred Elliott
Vice Captain:
Fred Jinks
Leading Goal-kicker:
George Topping
- 36 goals
Milestones
Debuts:
Ernie Jamieson
,
Ray Ritchie
,
Jim Neylan
,
Jack Baquie
,
Alex Barningham
,
George Renwick
,
George Stewart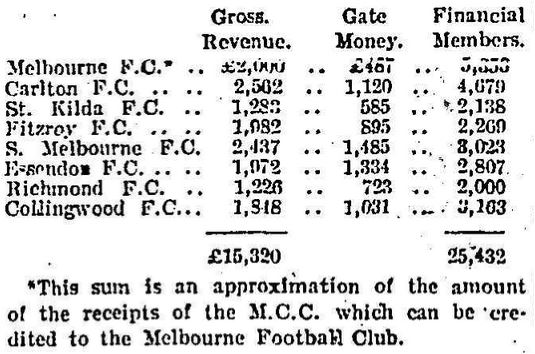 1909 Revenues & Expenditures, Trove; Age Nov 19 1910