| | | | | | | | | |
| --- | --- | --- | --- | --- | --- | --- | --- | --- |
| Carlton | 1.2 | 8 | 5.4 | 34 | 5.4 | 34 | 5.6 | 36 |
| Collingwood | 1.2 | 8 | 2.4 | 16 | 4.6 | 30 | 5.7 | 37 |

Venue: Victoria Park
Date: Saturday 17 July 1909
Result: Loss by 1 point
Umpire: Jack Elder
Crowd: 20,000
Goalkickers: F.Caine 2, F.Jinks 1, H.Kelly 1, J.Marchbank 1.
Best: J.Marchbank, N.Clark, L.Beck, M.Gotz, G.Topping, R.McGregor, J.Bacquie, A.Ford, C.Hammond, A.Barmingham
Reports:
Injuries:
---
Game Review
Players from both teams were looking forward to this game. However Victoria Park was in poor condition. Copious amounts of saw dust had been spread but it just mixed into the mud and slush. Playing baseball as the curtain raiser did not help the situation either.
Play started but it took 15 minutes before the first score was registered, a behind to the home team. The Blues tried to attack time and again but they weren't used to the conditions. Then through a brilliant piece of play by
Martin Gotz
enabled
Fred Jinks
to score the first goal. Good play by
Rod McGregor
,
George Topping
to
Vin Gardiner
, but he missed, a behind resulted. Collingwood soon replied with their first goal and at quarter time scores were level, 1.2 each.
Norman Clark
was playing well on the back line. From near the centre the ball went to
Frank Caine
who alone on the wing, rushed in and he slotted a long goal. Within 5 five minutes, Frank then repeated this effort from the same spot on the ground! When
Harvey Kelly
marked easily within range and goaled, the Blues had gained a handy lead in the heavy conditions. The Magpies added a goal, just before half time but
Jim Marchbank
restored the balance with the Blues' fifth goal. At half time Carlton led by 18 points, 5.4 - 2.4
On resumption Collingwood scored two quick goals, while holding the Blues scoreless for the rest of the term. Carlton led by just 2 points, 5.4 - 5.2
Frank Caine
's long low kick was touched on the line. The Blues' defenders were working overtime to keep the ball out of the danger zone. Another behind to the 'Woods and then a goal put them in front by one solitary point with 10 minutes remaining. Each side attacked, but each time it was repulsed, a battle of the back lines, it was exciting football. The bell sounded with the Blues 1 point in arrears. 5.6 - 5.7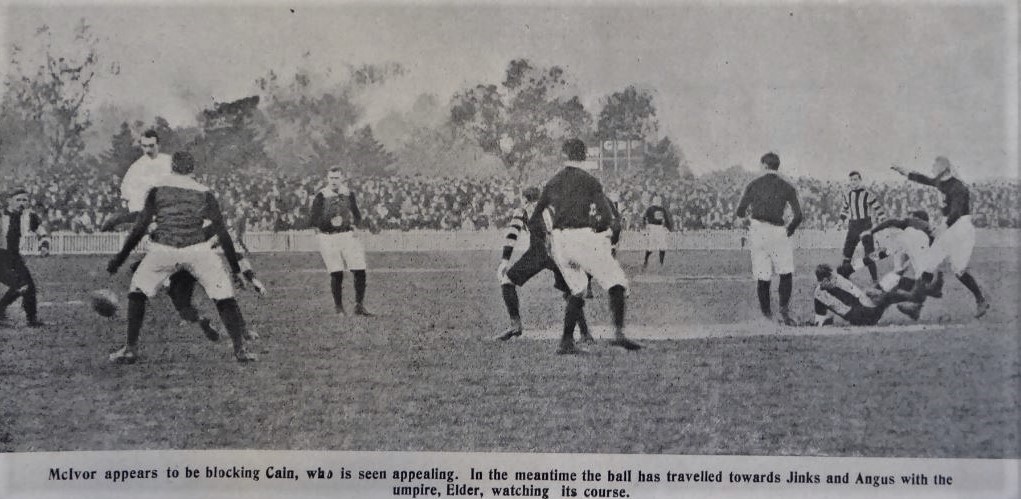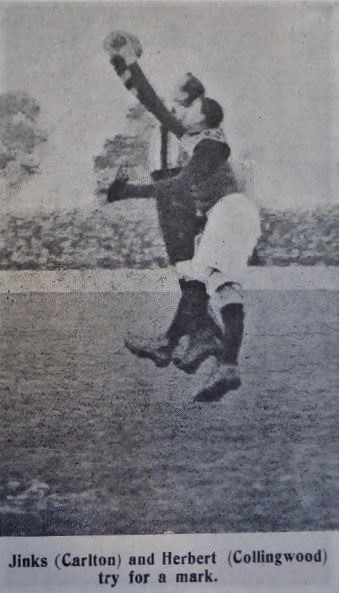 Images: SLV, Illustrated Sporting and Dramatic News (Melb) July 22, (p25)
Top photo; First quarter action, note the scoreboard.
Frank Caine
with his arm raised and
Fred Jinks
(near Umpire Elder) with his back to the camera. Possibly
Vin Gardiner
to the right of Jinks facing us.
Other Carlton players unknown, of course, numbering of players would have helped! White areas on the ground are probably some of the saw dust patches mentioned in the match report.
Fans' faces looking back from 110 years ago. Gotta love those ladies' hats, especially if they are standing right in front of you!
Could that be
Wes Lofts
' grandfather in the bowler hat, top, far right, checking out something happening behind play?
At the end of this round Carlton were in 3rd spot on the ladder with a percentage of 120.1.
Team
B:
Norman Clark
Les Beck
Alex Barningham
HB:
Martin Gotz
Billy Payne
Jim Marchbank
C:
George Topping
Rod McGregor
George Bruce
HF:
Frank Caine
Harvey Kelly
Jack Baquie
F:
Fred Jinks (vc)
Vin Gardiner
Fred Elliott (c)
Ruck:
Charlie Hammond
Arthur Ford
Alex Lang
Coach:
Jack Worrall
Milestones
Dead Halves:
This would be the last time the Pies held us goalless in a half for over
a century!
---
Round 11
|
Round 13