| | | | | | | | | |
| --- | --- | --- | --- | --- | --- | --- | --- | --- |
| Carlton | 2.2 | 14 | 4.3 | 27 | 6.6 | 42 | 11.7 | 73 |
| Essendon | 2.2 | 14 | 8.8 | 56 | 12.11 | 83 | 17.16 | 118 |

Venue: Princes Park
Date: Saturday May 19, 1962
Result: Lose by 45 points
Umpire: Harold Hodgson
Crowd: 36,457 Receipts: £4,845
Goalkickers: T.Carroll 4, J.Nicholls 2, J.Carroll 2, G.Collis 1, P.Falconer 1, J.Gill 1.
Reports: Jim Carroll (striking Bluey Shelton in the last quarter) - 2 matches.
Injuries: M.Cross (twisted ankle) replaced by J.Heathcote in third quarter. L.Brereton replaced by J.Carroll in last quarter. S.Silvagni (bruised thigh)
---
Game Review
Debutant Bruce McMaster-Smith replaced Graham Donaldson (infected leg) in the selected side.
Second-placed Essendon handed the Blues a reality check with this heavy defeat at Princes Park, during which
Jim Carroll
(playing his second and last game for Carlton) was reported and suspended for striking tough Essendon defender Ian "Bluey" Shelton. Carrot-topped Shelton was legendary for eating up and spitting out opposition players, and for 175 cm Carroll to stand up to him says volumes for his courage (and little for his sanity). Jim had little chance of getting off the charge, as he was reported by field, boundary and goal umpires (so we guess he probably did it).
This could have been a costly loss for the Blues, but Collingwood helped out by knocking over Geelong, and Carlton stayed just outside the top four on percentage. Tom Carroll's three goals moved him to within one of the joint leaders; Bill Stephenson of St Kilda, and Doug Wade of Geelong.
Carlton had few prominent players. Perhaps those that stood out more than others were centreman
Berkley Cox
and followers
Serge Silvagni
,
John Nicholls
and
Maurie Sankey
.
Bruce McMaster-Smith
, who transferred from Fitzroy, did several useful things on his wing.
- Football Record.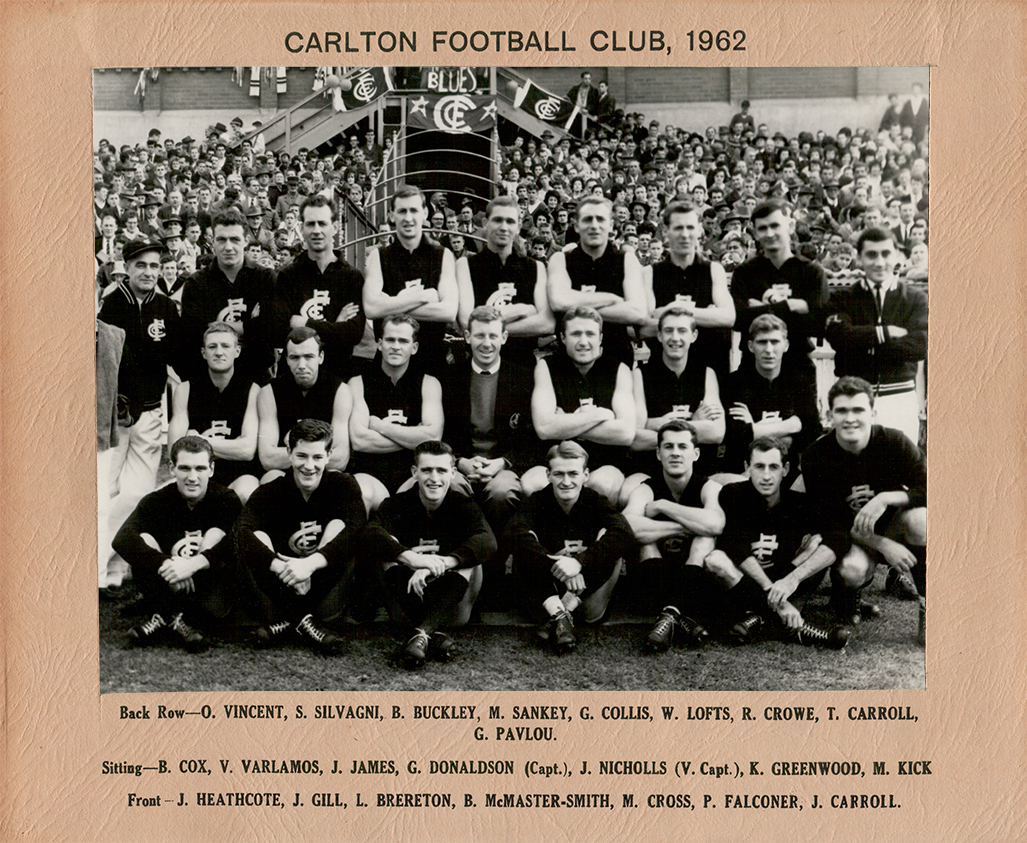 Round 5 team v Essendon
Team
B:
10 John James
4 Brian Buckley
16 Maurie Sankey
HB:
32 Vasil Varlamos
20 Wes Lofts
14 Bob Crowe
C:
40 Bruce McMaster-Smith
9 Berkley Cox
30 Murray Kick
HF:
23 Martin Cross
17 Gordon Collis
12 John Gill
F:
5 Ken Greenwood
22 Tom Carroll
36 Peter Falconer
Ruck:
2 John Nicholls (acting capt.)
1 Serge Silvagni
6 Leo Brereton
Res:
34 Jim Carroll
37 John Heathcote
Coach:
Ken Hands
In:
J. Heathcote, B. McMaster-Smith, J. Carroll, J. Gill
Out:
G. Donaldson, B. Arch, P. Barry, B. Williams
Milestones
Debut (Carlton):
Bruce McMaster-Smith
Last Game:
Jim Carroll
---
Round 4
|
Round 6