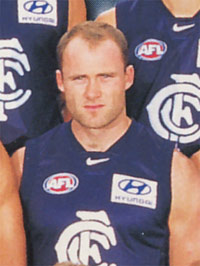 Career : 2000
Debut : Round 3, 2000 vs Collingwood, aged 27 years, 157 days
Carlton Player No. 1038
Games : 12
Goals : 1
Last Game : Round 21, 2000 vs Port Adelaide, aged 27 years, 263 days
Guernsey No. 26
Height : 195 cm (6 ft. 4 in.)
Weight : 100 kg (15 stone, 10 lbs.)
DOB : 9 November, 1972
A somewhat controversial figure at Princes Park before and after his brief stay in
2000
, Stephen O'Reilly was heavily involved in the most disastrous episode in Carlton's history – the
2002
Black Friday penalties that pushed the club to the brink of ruin. Two years beforehand, he was recruited (at considerable cost) as a ready-made successor for Carlton's champion full-back
Stephen Silvagni
, but managed only a dozen games before retiring due to a chronic hamstring injury. A year after that retirement, his name hit the sporting headlines again when he was one of four players (O'Reilly, Silvagni,
Craig Bradley
and
Fraser Brown
) targeted by a major AFL investigation into salary cap breaches by the Blues.
Originally from Swan Districts in WA, O'Reilly caught the eye of AFL scouts when he was quite sensational at centre half-back for his state against South Australia in 1992. Geelong won the contest for his signature, and the Cats seemed to have hit the jackpot when the powerfully-built O'Reilly settled into full-back, and capped his second season at Kardinia Park as Geelong's best player in their 1994 Grand Final defeat by West Coast.
Although the Cats were desperate to keep him, O'Reilly switched clubs to Fremantle in
1995
, becoming a foundation player with the Dockers in their debut AFL season. He went on to appear in 98 matches for them over five years, although late in
1997
he tore a hamstring tendon so badly, it was ripped from the bone. O'Reilly was never the same player after that injury, and during his last two seasons with the Purple Haze was regularly stationed up forward.
In
1999
Fremantle let it be known that O'Reilly had requested a transfer to a Victorian club for "family reasons". Meanwhile, at Carlton, full-back of the century
Stephen Silvagni
was in the twilight of his great career, so O'Reilly loomed as an ideal replacement, if - and it was, indeed, a big if - he was able to recapture his best form. Carlton was certain that he was, assuring supporters that he had "many years of good footy ahead of him," (Inside Carlton, 1999).
A lot of the Bluebagger faithful were not so easily convinced, nor were they happy at the cost of O'Reilly's recruitment. To get him to Princes Park, Carlton gave up National Draft picks 16 and 46 – used by the Dockers to select Brendon Fewster and Adam Butler.
Doubts about O'Reilly's fitness gained credence when he wasn't ready for the first two games of season
2000
, and worse still, had played just six matches (with minimal impact) by
round 15
. He began four of his next eight games on the interchange bench, before the club finally ran out of patience with him after
round 21
. He wasn't selected in any of Carlton's three finals teams, and it was no real surprise when he retired after just that one season, before the age of 28.
In retiring before his contract expired, O'Reilly created a financial headache for the Blues, who were obligated to pay him out early. The way Carlton did this, and also the way the club was handling financial dealings with the other three at the time, clearly contravened the AFL salary cap rules. This came to light twelve months later, after the AFL completed it's enquiry into the financial dealings of the Carlton Football Club.
While all four Blues were found guilty of breaching the rules, O'Reilly's apparent eagerness to please during the enquiry was seen as a contributing factor in the horrendous penalties handed out. On Friday, November 22, 2002, Carlton was fined $930,000, and excluded from the national draft and pre-season draft until 2004. It was a savage blow that sent the Blues into the football wilderness for almost a decade. It handed our club shame, and the unprecedented misery of three wooden spoons in five years.
It is fair to say that O'Reilly will be remembered as a sometimes outstanding full-back in his 134 games for Geelong and Fremantle - but as for his time at Carlton, it is best forgotten by all.
In the 2019 Mid-Season Rookie Draft, Stephen's son Dillon O'Reilly was drafted by the Fremantle Dockers with pick 11.
Links
Articles:
That First Pick...Players taken with Carlton's first pick in the draft
Blueseum:
Summary of playing statistics for Stephen O'Reilly
|
O'Reilly's Blueseum Image Gallery