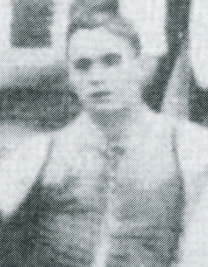 Victorian Football Association
Games: 6
Career: 1890 - 1891
Recruited from Rainbow, a local Fitzroy club, in 1890.
G. Mackie, pictured left.
This photo was taken on the 1890 trip to Sydney.
1890
August 30
Mackie was named in the 22 for Carlton that played Williamstown at Williamstown.
As Batters and McKenzie did not play, there is a good probability that Mackie did play, and made his debut for the Blues.
However, there is no mention of him in the brief match reports.
1890
September 06
The next week Carlton played South Melbourne at South Melbourne.
"Mackie a recently promoted junior, distinguished himself by his coolness and dexterity amongst the forwards."
1890
September 13
Mackie played in the match against Melbourne at the Friendly Societies Garden.
Melbourne's home ground, the Friendly Societies ground is believed to be near Collingwood's training facility, the Lexus Centre, near the Yarra.
1890
September 20
G. Mackie played in the match against Geelong at Geelong.
1890
September 27
Mackie played in the final match of the season against Fitzroy at Brunswick Street.
1891
Played 1 senior game.
1892
G. Mackie transferred to Collingwood and played 5 games.
Links
Articles:
Carlton in NSW,1890
Blueseum:
Pre VFL Players