Victorian Football Association
DOB: December 01 1860, Pleasant Creek (now Stawell)
DOD: September 02 1935, Flemington.
Games: 54 approx
Goals: 5
Career: 1880-1881, 1885-1887.
The Saturday Journal (Adelaide) September 22 1923 (p10) in an item about Victorian players who transferred to South Australia in 1878 and later,
mentions George Bragge as "Ocey" Bragg.
Blueseum has been fortunate to have received some information from George Bragge's great grandchildren.
George Henry Bragge (the grandson of two convicts) was born December 01 1860 at Pleasant Creek, now known as Stawell in Victoria. His parents John and Jane were involved in farming and gold mining.
The family moved to Walhalla, then to Melbourne, where they settled at 161 Lygon Street Carlton.
George became a cabinetmaker, working with his oldest brother William. George's son, George James followed him in his trade.
The Bragge family story which was written in 1972 says that for nearly 100 years the family had a connection with the Carlton Football Club.
Starting with George in 1880, then his nephew Norman Bragge was a trainer with the Club during the triple premiership glory years 1906-1908, (see
Trainers - Medical Staff
) and Norman's son Leslie Bragge played for the club in the 1940's. (The Benalla Ensign July 5 1946 mentions that a former Carlton player named Les Bragge is debuting for Benalla on the half forward flank.)
George Bragge married his wife Amelia in May 1885 while he was playing with
Norwood
in Adelaide. A few months later he returned to Melbourne and resumed his playing career with Carlton on August 29.
He passed away at Flemington, Victoria, on September 02 1935, aged 74.
The Bragge family has also provided further information in regards to the Carlton team photo taken in Adelaide which is featured on the
1881
page.
They have kindly sent Blueseum a copy of this photograph with the names of each player.
Blueseum had the names of the players who went on the tour, and the photo, but now we can finally put the names to the faces!
Photos or sketches of Carlton footballers, officials, etc. from the Pre VFL era are very rare.
Blueseum would appreciate it if you have photos, information, or memoriabilia,
from any era
, could you please email copies to the site, or contact Blueseum. (see Home page)
1880
April 24
The Weekly Times reported that Carlton had recruited Bragge from its junior club.
1880
May 01
George Bragge probably made his debut for Carlton, aged 19 and 5 months, in the match against the Star of Carlton on Princes Oval.
He was named in the Carlton squad of 20 published in the newspapers.
Carlton won the match in which Blues' champion
George Coulthard
kicked all five goals to the Star's one.
1880
New recruit from Carlton Juniors and one of the best Carlton men for the 1880 season.
(Centenary Souvenir of Carlton Football Club p15)
1880
His first season. A determined and splendid little wing player. Kicks well either foot.
(The Footballer. 1880. p23)
1881
George Bragge is pictured in the Carlton team photo taken in Adelaide on the club's tour of the city.
See
1881
page for photo.
1881
Has also played occasionally.
(The Footballer. 1881. p24)
Played with Norwood F. C. in South Australia 1881-1885.
1883
July 7
Norwood and South Adelaide played on the Adelaide Oval.
The South Australian Register's report of this match, in part, said;
"Bragge, back, although heavily handicapped by his everyday clothes played his "Carlton" game, and frequently "came down like a wolf on the fold," proving simply invaluable."
1885
May 25 Monday
George was playing for Norwood against South Adelaide.
1885
August 29
Carlton played Melbourne on the Friendly Societies' ground.
The Australasian;
"Bragge, a noted Carlton player, who had been in Adelaide for some time, was included in the team, and his appearance on the ground was greeted with a cheer."
George Bragge scored the first and third goals for Carlton.
He was named among the Blues' best players in the 5.8 - 2.9 victory.
1886
. (backs) singled out for special mention for the season.
(Centenary Souvenir of Carlton Football Club p18)
1887
CFC Annual Report, G. Bragge scored 1 goal for the season.
1887
George Bragge was presented at the Carlton general meeting with an illuminated address for giving the club long service in the First Twenty; Friday 1st. April 1887.
1887
September 03
A person named G. Bragge was a goal umpire at the Footscray vs University match at Footscray. (same person?)
G. Bragge played with former Carlton players
A. E. 'Topsy' Waldron
,
Billy Dedman
,
Alf McMichael
,
W. 'Billy' Bracken
,
Loch J. Bracken
at Norwood, South Australia.
1934
At a past players get-together at half time during the Carlton vs Fitzroy match September 01 1934, George Bragge proudly boasted that he was never free kicked during his career at Carlton.
1935
September 03 Tuesday
George Bragges's funeral left his residence 82 Shield Street Flemington at 3.30pm for the Fawkner Cemetery.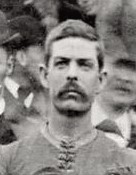 George Bragge at Norwood. S.A.
Courtesy; Redlegs Museum
Redlegs Museum
http://www.redlegsmuseum.com.au/ON_FIELD/PLAYERS/BraggeGeorge.aspx
Links
Blueseum:
Pre VFL Players
|
Norwood