Victorian Football Association
DOB: February 26, 1857. Mornington, Vic.
DOD: June 07, 1929. Adelaide Hospital, South Australia.
Career: 1877 - 1878 1884
Brother of
Ernest Arthur Waldron
,
Herbert Waldron
and Frank Waldron who played for Melbourne
Alfred Edward "Topsy" Waldron (left) is pictured in his Norwood playing days.
In 1926 he was asked how he got his nick-name. He said his brother had named him 'Topsy' and when he went into football the name just stuck.
Defender, recruited from Montague and Albert Park. Another report said A. E. Waldron came from Carlton Imperials in 1877.
Norwood F.C. Hall Of Fame
(see below)
1877
Did not play well at first, owing to holding on too much, soon saw it's folly,and improved very much afterwards, and promises to make a really good player, much liked by his comrades for his gentleman demeanour.
(The Footballer 1877 p36)
1877
Waldron was in the Carlton touring side to play matches against the Waratah Club in Sydney.
(The History of The Carlton Football Club, Brian Hansen p37)
1878
A. E. "Topsy" Waldron played in both Carlton-Waratah matches at the M.C.G. on June 29 (Rugby) and July 1 (Australian Football).
A leading player of
1878
"a back player par excellence", the last hope of his side, difficult to hold and most effective in runs and good kicks and went to Norwood in
1879
*.
(Centenary Souvenir of Carlton Football Club p13)
Carlton lost a fine player in A.E.Waldron who moved to Adelaide.
In 1878 a Sydney club had held out inducements to Waldron to transfer to N.S.W.,but he decided to accept an Adelaide offer instead.
It was probably the first of the many cases in interstate trafficking in players.
(The Carlton Story, H.Buggy and H.Bell p47)

A. E. 'Topsy' Waldron
played in 10 premierships with
Norwood (South Australia)
1878*, 1879, 1880, 1881, 1882, 1883, 1887, 1888, 1889, 1891*.
Captained Norwood 1881-83, 1889-90.
Former Carlton players
Billy Dedman
and a
W. 'Billy' Bracken
also played in some or all premierships.
(Everything You Wanted To Know About Australian Rules Football But Couldn't Be Bothered Asking, Graeme Atkinson, p33,141)
-* Differing years when leaving Carlton and starting at Norwood. He joined Norwood in 1879 and only played in 8 premierships for Norwood, missing 1878 when still at Carlton and 1891 when he had retired and had joined the umpiring fraternity, but still remaining a member of Norwood's committee.
Carlton players who were enticed over to
Norwood
in 1878 were
Alf McMichael
(1878-1880 and Norwood's first vice captain),
Billy Dedman
(1878-1880 and their leading goalscorer 1878-79),
Billy Bracken
(1878-1880) and
Alf Wishart
(1878).
They were joined by Alfred 'Topsy' Waldon in 1879 (he remained at Norwood to 1892 except 1891 when he was an umpire but still on Norwood's committee of management)
L. Bracken
joined in 1880 (for this one season) and
George Bragge
(joined in 1881 and remained to 1885 before rejoining Carlton).
The Norwood Football Club has a interesting article on
A. E. "Topsy" Waldron.
http://www.redlegsmuseum.com.au/THECHAMPIONS/HALL_OF_FAME/WaldronAlfred.aspx
The following is from "Men of Norwood -The Red and Blue Blooded" by Mike Coward (1992)
Pages 11-12
"An area in the picturesque East Parklands near the tramway, and opposite the Kent Town brewery in which the club patron, the then Mr. Edwin T. Smith, had a controlling interest, was the club's first home ground. It was there that Topsy Waldron, who along with Billy Dedman and Billy Bracken transferred from Carlton, revealed his rich talents to the State's emerging football fraternity.
Other Victorian players Alf McMichael, the first vice-captain (another Carlton player), Lou Suhard and "Jammy" Watson from Melbourne, North Melbourne's Joe Traynor and "Curly" Pollock, who had played with distinction at Hotham Hill, were excited by the raw talents of Waldron. Norwood was to provide the vehicle for Waldron to reveal his skills and his generalship throughout the colonies. Waldron succeeded Osborn as captain in 1881. He immediately revealed a flair for the position and was considered by many experts of the day to be without peer throughout the country. Victorians first witnessed his brilliant strategy when Norwood played South Melbourne in 1882. The match ended in great controversy after Waldron had clashed with Latchford, a South Melbourne player. The dispute, the details of which were never revealed, sorely strained relations between the two clubs.
Norwood officials, ever mindful of the harm caused by the furore, agreed to play South Melbourne in 1885 only if Latchford was not selected. In a terse communiqué to South Melbourne officials the Norwood committee insisted a notice be placed in the daily papers. It was to read: "That the South Melbourne Football Club, having expressed regret for the behaviour of Latchford on the South Melbourne ground in the match South Melbourne versus Norwood in 1882, have consented to send a team to meet them on the Adelaide Oval this season."
Page 13
"Waldron was the focal of a scandal which shook the club to its foundations in 1886. Replaced as captain by Alf Roberts (after the 1884 season), Waldron sensationally charged Mr. Henry Charles Burnet, a club founder, with excessive fraternization with umpires.
The committee was dismayed at Waldron's allegations and stated unequivocally that Mr. Burnet's intergrity was beyond reproach."
. . .
"Waldron was untroubled to make his peace with the committee and was restored as captain in 1887 (the year he played his second and final cricket match for South Australia). Only months before his reinstatement Waldron had pleaded to the club for financial assistance. He was unable to pay a doctor's account for £7/18/- and had been threatened with legal proceedings. The committee promptly resolved that he be lent £10 without interest."
Page 14
"There was further consternations concerning the activities of Waldron in 1891. After 12 years of service to Norwood, eight of them as captain, Waldron elected to join the umpiring fraternity. However, he remained a member of Norwood's committee of management. During the year the committee decided the club should visit Tasmania. A clique within the committee contended that Waldron should not be permitted to make the journey unless he resigned his umpiring commission. Waldron was angered by the hardline attitude, and eventually the committee agreed that Waldron should join the party, which was financed by a loan from the patron, Sir Edwin Smith.
Waldron, who had captained South Australia in its six interstate matches between 1880 and 1890, greatly regretted his decision to retire when Norwood achieved its 10th premiership under the leadership of Alf Grayson. He immediately reconsidered his position, and, at the age of 35, decided to return to senior football in the quest for the club's 11th pennant, and his seventh as captain. However the glory was to be South Adelaide's. He was uneasy in retirement and caused another upheaval among the committee members when he officially objected to the appointment of an official doorkeeper in 1893. Waldron believed that post had been created to prevent him from entering the rooms before and during the matches. The committee dismissed his accusations as outrageous and said emphatically his name had not been mentioned at the time of the resolution. Waldron remained dissatisfied and told the committee he strongly objected to any committeeman telling deliberate lies about him. The committee was horrified by the allegations and asked him to attend a meeting so it initiate an investigation. Waldron laid his charge against George Searcy, a committee member who, as secretary, was to pilot the club into the 20th century. He attended a meeting and called the doorman as a witness. After long consultations the committee found the charges could not be substantiated and discarded them as pure folly but, to placate Waldron it granted him permission to enter the rooms whenever he wished."
Page 28 (in 1929)
"Four years later, under the direction of Scott, it was to win its 18th premiership. But Topsy Waldron was not to witness the triumph over Port Adelaide. He would have wept tears of joy at the success but, as it was, tears of sorrow were spilled at his passing on 7 June. Fifteen months and one week earlier he had been one of the club's most celebrated captains of bygone winters asked to extinguish 50 candles on a birthday cake that was ceremoniously carried before members at a smoke social after the jubilee annual general meeting of the club on Tuesday, 28 February 1928. His life had now been extinguished in a premiership year. Topsy was dead. Long live Norwood."
"Forward! Norwood, red and blue.
Beauty's lips are praised you.
Cheer the bonny red and blue.
Cheer the colour fast and true.
Keep the honours still in view.
Forward! Men of Norwood".
Page 9
"Waldron died a pathetically lonely man. He believed only his Norwood Football Club truly loved him. In the summer of 1928-29 he told members of the committee that he would like to be buried by the club as he felt he was without friends. The club was willing to comply with the request and when he died approached the family for their permission. The committee was told that "the relatives thanked the club for their offer to bury the remains, but that they wished to carry out the last rites themselves." It was then that Norwood decided to erect a memorial above the grave.
His death severed the remaining tangible tie with the pioneers of the Norwood Football Club. Two days after his 21st birthday, on Thursday, 28 February 1878, the club that was to win fame throughout the colonies was born at a meeting at the Norfolk Arms Hotel in Rundle Street, Adelaide."
This book also listed Waldron as captain of Norwood between 1881-84* & 1887-90 and 1892 (9 seasons premiership captain in 6 seasons, twice runners up, once third)
Played for Norwood between 1879 and 1890 & 1892 (12 seasons)
Premierships 1879, 80, 81, 82, 83, 87, 88 & 89 (8 premierships)
-* But since have included season 1885 as captain when Norwood were runners up
1890
August 23
The Advertiser (Adelaide) mentioned Waldron;
"The rumor that Waldron had resigned his position as skipper of the Norwoods is incorrect. It is true, however, that the genial Topsy had an intention of retiring, but after the Souths beat his team he determined to remain with them."
1923
June 21
South Australian Advertiser from an article by Jack Reedman of "Football in the Eighties."
"Topsy Waldron skippered the redlegs in masterly fashion. He invariably out-maneourvred the opposition captain, and was awfully strict in the matter of keeping your places. He was keeness personified, and woe betide a young player if he strayed from his appointed station. My word! He used to tell the erring ones in no uncertain tones.
Topsy generally gave himself a roving commission. He was here, there, and everwhere, getting a well directed kick and urging others to follow suit."
1926: Frank Coffey on Topsy Waldron
Former Carlton player & VFA/SAFA Umpire
Frank Coffey
writes about Topsy in his column for the newspaper Sport (Adelaide) September 03 1926.
Click here>
http://nla.gov.au/nla.news-article216261178
1927: "TOPSY"
http://nla.gov.au/nla.news-article215977615
1929
April 25
Frank Coffey
writing in Sport (Adelaide) p11
"I can remember seeing "Topsy" playing for Carlton on top of the hill in the Royal Park between North Melbourne and Carlton in the seventies with Paddy Gunn, George Robertson, "Squash" Robertson, Billy* Nudd, Billy Dedman, Peter Lacey and Skipper Jack Gardiner.
.* misprint?
1929
June 07 Friday
A. E. "Topsy" Waldron received injuries from a fall from scaffolding.
He died a few days after the accident on the morning of Friday 7th; he was aged 72.
To read an obituary about Topsy Waldron from the Register-News Pictorial;
Click here>
http://nla.gov.au/nla.news-article53452995
1929
June 08
The funeral left Topsy's residence 27 Fourth Ave St. Peters for the Payneham Cemetery
Football Captain of the Eighties - Topsy Waldron Dead - Prince Of Dodgers
The Register News Pictorial, Adelaide, June 08 (p38), wrote about Topsy;
To read click here>
http://nla.gov.au/nla.news-article53452995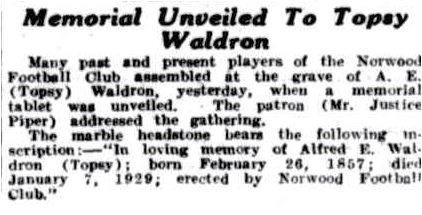 Image:Register March 03 1930
The above article seems to be incorrect with his date of death.

From the Adelaide Advertiser on Saturday 8 June 1929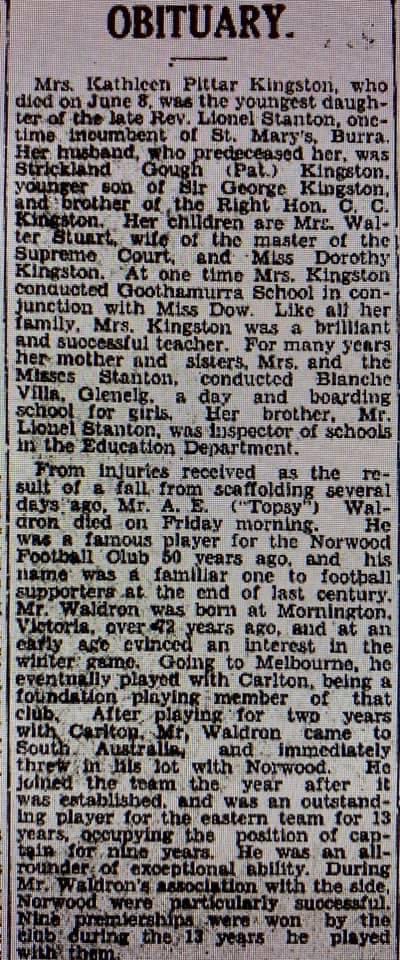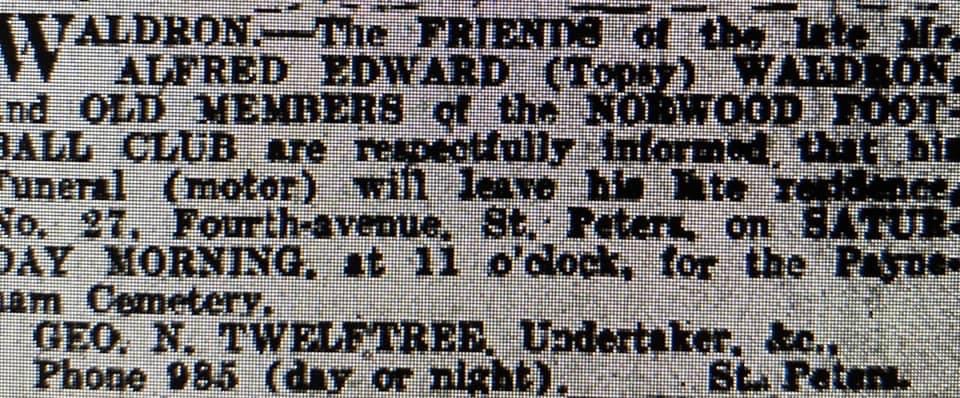 The funeral was at 11am, yet Norwood was playing West Torrens that afternoon. It must have been a rush for club folk to hear of his death on Friday, attend his funeral at 11am the next day, and then get to the league match that same afternoon.


Picture supplied with thanks to curator of Norwood Oval (home ground of the SANFL Norwood Redlegs), Mr Barry Solomon.
1929
June 14
The Adelaide Advertiser mentioned that Waldron's brothers played football.
Frank 'Daddy' Waldron played for Melbourne.
Herbert Waldron played in the Ballarat district.
The youngest, Arthur Waldron went to Collingwood and played in the early days of that club.
Collingwood has listed Ern Waldron in its early VFA days.

Image: (Trove) Melbourne Punch May 24 1888
Links
Blueseum:
Pre VFL Players
|
Norwood