| | | | | | | | | |
| --- | --- | --- | --- | --- | --- | --- | --- | --- |
| Carlton | 1.2 | 8 | 2.6 | 18 | 4.9 | 33 | 6.11 | 47 |
| Collingwood | 4.3 | 27 | 5.3 | 33 | 8.5 | 53 | 9.7 | 61 |

Venue: MCG
Date: Saturday October 1, 1910
Result: Lost by 14 points
Umpire: J.Elder
Crowd: 42,790
Goalkickers: R.McGregor 2, J.Baquie 1, V.Gardiner 1, J.Marchbank 1, J.Wells 1.
Best: B.Payne, N.Clark, D.Harris, F.Elliott, J.Marchbank, J.Baquie, A.McDonald, R.McGregor.
Reports: J.Baquie (1 year suspension), P.Sheehan (18 month suspension).
Injuries: R.McGregor (knee), A.Wilson (knee).
Game Review
Collingwood got off to a great start on a hot and windy day, kicking four goals to Carlton's one in the opening quarter. But they then went defensive and Carlton failed to take their chances in a tight second term, kicking 1.4 to 1.0. This meant that Collingwood went into half-time with a handy 15 point lead. Then, early in the third quarter, both sides struck injury troubles.
Rod McGregor
and
Archie Wilson
both went off the ground for Carlton, followed by Ryan and Scadden for Collingwood.
The Blues played their best football in the third quarter, but were let down by their forwards and didn't make any inroads into the Collingwood lead. Tempers had been raised at times during the game, and in this quarter a fist-fight broke out that eventually involved 30 players and officials. Baquie and Sheehan were reported for Carlton, and Baxter and Shorten were reported for Collingwood. Observers reported that many more could have gone into the book had it not been for the quick thinking of umpire Elder, who bounced the ball whenever there was trouble and got the game moving again. The continuation of play broke up the fights, as players realised that there was a Grand Final to be won. Skirmishes and sniping continued until the final siren, but Carlton couldn't bridge the gap and went down by 14 points as Collingwood won their third VFL Premiership.
The VFL was severe on the four reported players.
Sheehan
and Shorten were suspended for a season and a half each, and
Baquie
and Baxter were suspended for the entire
1911
season, although Baxter's suspension was overturned on appeal. Tom Baxter was a Collingwood star whose suspension was quashed when another Magpie; Richard Daykin, signed a declaration that it was him, not Baxter, who belted Baquie. Daykin had bright red hair, and even though more than one umpire stated that the culprit was the dark-haired Baxter, the League accepted Daykin's story and lifted the suspension on Baxter. Meanwhile, Daykin had retired, and therefore couldn't be punished. Collingwood got their star rover back for the 1911 defence of their flag, but the episode didn't win Collingwood any friends.
This remains Collingwood's only Grand Final victory over Carlton, from six attempts.
Savage Football
A Free Fight - Disgraceful Melbourne Scene - Umpire Saves Situation
The Queenland Times (Ipswich) October 06 carried a report of the fight.
To read click here>
http://nla.gov.au/nla.news-article112036603
Team
Changes
In:
D.Gillespie
Out:
J.Flynn
Note:
This game was a Grand Final Challenge. Carlton lost their semi final, but were able to challenge the winners of the Final, as they had ended the season on top of the ladder.
Milestones
50 Carlton Games:
Vin Gardiner
Last Game:
Bill Goddard
Last Games (Carlton):
Tom McCluskey
and
Percy Sheehan
War in Footy:
Tom McCluskey
was tragically killed in action during World War I.
Rivalries:
This was the first Grand Final between these great foes; and Collingwood's only win over Carlton in a flag decider
.


Three quarter time break. Note: Trainer wearing a Carlton guernsey under his coat. Image: Trove; Punch Oct 06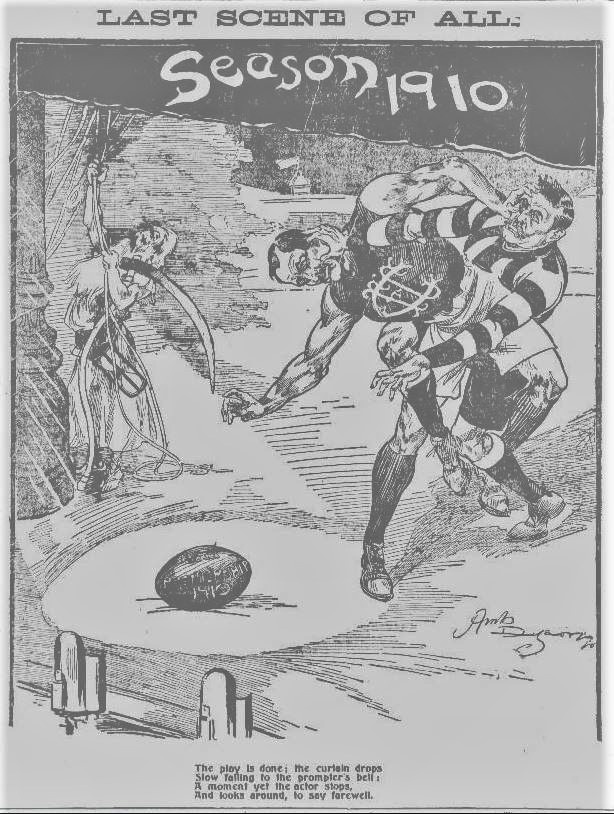 Ambrose Dyson cartoon, Herald Sept. 30
---
Semi Final
|
1911