Career : 1929 - 1933
Debut : Round 3, 1929 vs Hawthorn, aged 23 years 224 days
Carlton Player No. 459
Games : 125 (85 at Carlton)
Goals : 276 (109 at Carlton)
Guernsey No. 14
Last Game : Semi Final, 1933 vs Geelong, aged 27 years 345 days
Height : 182 cm (5 ft.11½ in.)
Weight : 78 kg (12 stone, 4 lbs.)
DOB : September 29, 1905

Victorian Representative 1932
For decades after
1932
, Carlton supporters were adamant that the Blues would have been Premiers that season, if only their star forward Jack Green hadn't been ruled out of the
Grand Final
by a knee injury. After all, they said, the Blueboys had been superb in trouncing Collingwood by 75 points in the
Preliminary Final
. But Green's injury robbed the team of it's centre half-forward for the decider, and Richmond won the flag by nine points.
A Carlton star in the tough economic times of the Great Depression, John Joseph Patrick Green wore Carlton's
number 14 guernsey
into finals football in each of his five seasons at Princes Park, encompassing 85 games. At first a powerful, straight-kicking key forward, he later proved to be equally effective anywhere on the goal-to-goal line.
The eldest in a family of five brothers, Jack was born in suburban Brunswick in 1905. His early life was marred by tragedy, but he overcame adversity to graduate from University as a lawyer, and to play 125 games of VFL football with Carlton and Hawthorn. Jack was just entering his teenage years when his father (who had been a successful hairdresser in Bendigo) enlisted to fight in the Great War. Tragically, he returned home with severe psychological damage, which placed enormous stress on his wife and eventually led to her breakdown. The oldest and youngest boys, Jack and Bernie, were fostered by family friends, while Bob, Frank and Tom were placed into orphanages. Jack had the enormous good fortune to be taken in by the family of
Dan Minogue
, a brilliant footballer who became Jack's mentor and would later coach him at Carlton.
Within a brief few years, Green was a champion all-round junior athlete and footballer with St Joseph's CBC in North Melbourne. In
1927
, while studying law at Melbourne University, he signed on with University B in the thriving Metropolitan Amateur Football Association. Within a matter of months he had won the University high jump championship while booting 106 goals for the season as the 'You B's' won the A section Premiership. Jack had also been awarded a Rhodes Scholarship by then, but was unable to travel overseas and had to decline it.
In
1928
, University B became University Blacks (and University A became University Blues) as the MAFA expanded to three sections of ten clubs each. Green was even more impressive in his second season, kicking 118 goals as the Blacks went through the A section season almost undefeated (their only loss came mid-year - by 1 point!) Afterwards, one local journal,
Amateur Footballer
, commented (in part) "that phenomenal success has been due to the wonderful all-round ability and accuracy of their star forward Jack Green. Lithe-limbed, cool and calculating, with a powerful spring and sure pair of hands, he has been the pivot of innumerable successful varsity onslaughts."
As news of Greens' exploits spread, Melbourne, Carlton and other VFL clubs beat a path to his door, but it was Carlton which eventually won a vigorous contest for his services - because his foster father Dan Minogue had just been appointed coach. Jack officially became a Blue on May 11, 1929, when he ran out onto Princes Park for his
debut match against Hawthorn
, and celebrated a 38-point win. Thereafter, Jack spent most of his first season playing second fiddle to Carlton's crack forwards
Horrie Clover
and
Harry 'Soapy' Vallence
. Even so, his 33 goals from 15 games was an impressive effort. Carlton wound up second on the ladder, only to be knocked out of the
Preliminary Final
by one of Minogue's former clubs, Richmond – the third year in a row that the rampant Tigers had cut short Carlton's Premiership aspirations.
Another
Semi Final loss
, to Geelong in 1930 prompted a rethink by the Carlton match committee, and the following year they sent Green to centre half-back, where his tenacious attitude and long kicking to position were a revelation. He spent the season creating a real problem for opposition teams, until the retirement of Clover (after Geelong defeated Carlton for the second time in a row in the
1931 Preliminary Final
) left a hole in Carlton's forward set-up that only he could fill.
So, after that one season in defence, Green became the Blues' focal point in attack in
1932
, and straightened his team up by giving them a reliable marking target at centre half-forward. And while he was still a reliable set-shot for goal himself, he was more prepared to bring those around him into the game with skilful ball use. The chief beneficiary of all this was 'Soapy' Vallence, whose 97 goals for the year would stand as a Carlton record until
1970
.
When Carlton wound up the '32 home and away season as minor premiers, that elusive, longed-for sixth VFL flag seemed to be in sight again. Green had enjoyed his best season, being one of seven Blues rewarded by selection in the Victorian state team, while Vallence's dominance at full-forward was a real season highlight. But once more, Richmond ruined the script when they skittled a full-strength Carlton outfit by 25 points in a classic
second Semi Final
.
All was not quite lost however. Fuelled in equal parts by anger, frustration and grim determination, Carlton came out red hot against Collingwood in the
Preliminary Final
, and smashed the Magpies into submission with a record-breaking win by 75 points. 'Soapy' booted 11 goals, and Green three – before Jack went down with a damaged knee late in the game, and sent shivers through every Carlton soul. Within 48 hours, he was ruled out of the team that met Richmond in the
Grand Final
, and his presence was sorely missed. The Tigers maintained their dominance over Carlton in another bruising encounter, to claim their third flag by a nine points at the final siren.
In
1933
, Jack was joined at Carlton by his younger brother
Bob Green
, who was destined for an impressive senior career of 187 games. The brothers turned out in ten matches together that year, as the Blues finished third on the ladder. Bob missed a place in the
Semi Final
side that met Geelong, while Jack played at centre half-forward in yet another finals disaster. The game was in balance half-way through the final term, before a fresher and faster Geelong pulled away to win by 13 points. After that fifth successive finals letdown, Jack decided (or was convinced) that a change of clubs was required. In
1934
, he crossed to Hawthorn and, playing predominantly at full-forward, kicked 80 goals in his debut season to set a club record that wasn't broken until Peter Hudson arrived at Glenferrie Oval in
1968
.
Overall, Jack's three seasons with Hawthorn produced an impressive haul of 167 goals in just 40 games, at an average of 4.17 per game. The fact that Hawthorn finished among the bottom four rungs on the ladder in each of those years makes those achievements even more remarkable, as was Green's selection for Victoria in the 1935 Victorian team that beat South Australia at the MCG in August. Jack's biggest thrill however, would probably have been when he played alongside his younger brother Bob (who was already on the way to stardom at Carlton) in that victory over the Crow-Eaters.
Jack retired from VFL football in
1935
, took up a legal practice, and soon found his way back to University Blacks. There, under the coaching of his former Carlton captain
Ray Brew
, he rounded off a memorable playing career with successive Premierships for the Blacks in 1938 and 1939.
After his playing career ended, Jack spent much of his working life in partnership with Brew at the legal firm of Nicholas, O'Donohue and Brew.
He passed away on the 28th May, 1960, aged 54.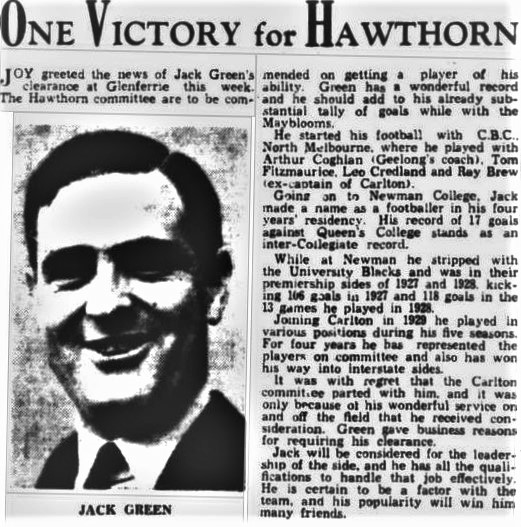 Trove; Sporting Globe April 21 1934 p6
Milestones
50 Games :
Semi Final, 1931
vs Collingwood
100 Goals :
Round 6, 1933
vs Melbourne
Footnotes
Soon after retiring as a player, Jack began a part-time career calling football matches for radio station 3KZ, alongside household names Norman Banks and Phil Gibbs.
Green family folklore records that Jack was a central figure in the foundation of one of Melbourne's best-loved rituals, Carols by Candlelight. Interviewed in 2015, Jack's daughter Genevra Green explained. "Dad was with Norman Banks one hot summer's night, when there was an electricity strike (so no trams). He and Norm decided to walk home from the city to our home in Queen's Road, so that Norm could get a lift to his home in our car," she said. "During their walk, on passing a unit opposite the Shrine, they saw a little old lady singing a Christmas Carol with a candle on her table, and Norm commented how nice it was to hear Carols by Candlelight. That's where it started. Norm followed up on his comment, and so the tradition was born."
Carols By Candlelight is a Melbourne institution. It began in 1938 and attracted 10,000 people to the Alexandra Gardens at midnight. Norman Banks compared the show until 1951.
Since the war, Carols By Candlelight has been used to araise awareness and funds for Vision Australia.
Other cities in Australia and around the world have emulated this Melbourne event.
Carols By Candleght is in it's 83rd year.
Links
Blueseum:
Summary of playing statistics for Jack Green
|
Green's Blueseum Image Gallery