Melbourne Rules - Challenge Cup Competition
DOB: circa 1849
DOD: 29 April 1883 Albury
Original Carlton Football Club player.
Committee Member: 1870
Games: 6 - 10
Goals: 3
Career: 1864 - 1871 1873 - 1875 1876
James Campbell Duncan
Jim Duncan mentioned as great drop kick in
1864
.
(Centenary Souvenir of Carlton Football Club, p5)
1865
Scored a goal against Warehousemen's "from a splendid drop kick, with a great deal of screw on, sending the ball six or seven times around a tree in the immediate vicinity before it went flying through the centre and won the game".
(The Herald. June 14 1919.)
1867
A beautiful long drop kick (and later a leading Melbourne doctor) and was another effective player for Carlton during the 1867 season.
Scored a goal in the win against Pentridge (now called Coburg).
One of 10 Carlton players to play for the Northern side in the North Vs South game.
(The Carlton Story, H.Buggy and H.Bell p14,15,17)
1866
Listed as a medical under graduate (No.199) in the 1869 Melbourne University listings.
https://rest.neptune-prod.its.unimelb.edu.au/server/api/core/bitstreams/130fbc21-26e2-5e27-b38a-7a9531af7cb5/content
1867
Tom Hope
and Dr. J. Duncan gave an added touch of class to an already impressive playing list.
Duncan was the colony's outstanding exponent of kicking the ball.
(The History of The Carlton Football Club, Brian Hansen p 13,17.)
1868
Outstanding player for Carlton.
Duncan named in squad to play Emerald hill at Emerald Hill Saturday 6th. June 1868.
1869
Scored the only goal (and score) against Albert Park June 26 Emerald Hill.
1870
Played in the Challenge Cup match against Albert Park, June 18 at Royal Park.
The ground was inches deep in slush and ended in a draw.
(The Carlton Story, H.Buggy and H.Bell p17,19.26)
1870
J. C. Duncan and
Jack Conway
were Carlton representatives in the drop kicking competition, part of the Winter Athletic Sports held on Separation Day at the M.C.G. on Friday 1st. July.
1871
Listed among the players for this year.
1875
December 09
James Campbell Duncan married Mary Ann Newing (Births Death and Marriages Victoria 4517/1875)
1876
J. Duncan went to Albury to take up a position as a medical doctor.
1878
Border United and the Albury Football Clubs played at Corowa on Saturday 22 June on the ground at the rear of the Royal Hotel.
The first player named in the Albury team is Dr. Duncan. (Corowa Free Press June 21 p2)
Duncan captained the Albury team and was named among the better players for Albury in their 1 - 4 loss.
Border United was an amalgamation of the Waygunyah (Vic) and Corowa (NSW) Football Clubs.
1880
Former Carlton player Dr. James C. Duncan of Albury is named in the Australian Town and Country Journal July 25 (p35) as the writer "True Blue."
Someone had used the name "True Blue" in a letter to the paper deriding Australian Football . "Orange and Blue" aka
Tom Power
jumped to Duncan's defence to point out that the writer was not James C. Duncan.
1880
Age May 04 (p1)
On May 04 at his residence, Dalmarnock Cottage, Cardigan-street, Carlton, Mr. James Duncan, builder, aged 71 years.
He was born circa 1809, so this is probably Dr. J. C. Duncan's father.
The elder James' wife was Margaret Campbell Duncan, she died March 16 1873 aged 62 at the same address. So it seems she was Dr. James Campbell Duncan's mother.
The same 1923 address as Dr. J. C. Duncan's wife Mary Duncan. See below.
1880
Argus May 05 (p8)
Funeral Notice
The friends of the late Mr. JAMES DUNCAN, builder, are respectfully invited to follow his remains to the place of interment, Melbourne General Cemetery.
The funeral will move from his late residence, Dalmarnock-cottage, Cardigan-street, Carlton THIS DAY, 5th inst. at half past 3 o'clock.
1881
Dr. James Duncan was travelling by train to Melbourne. He was dozing in the carriage when he was awoken by two men, "armed with the moral authority of the law" who dragged him roughly from the train to the platform where he received a blow to the head. He had been mistaken for a forger who the authorities were looking for. When the Albury Banner of November 18 (p12) reported this incident Duncan had not fully recovered. Perhaps this contributed to his early death?
1882
March 10
"We regret learn that Dr. Duncan, who was attacked by illness a few days since, still remains in a precarious condition."
(Albury Banner and Wodonga Express p13)
1882
April 22
Duncan has recovered and returned to his practice.
1883
April 29
Death of Dr. James Campbell Duncan aged 39 years, after a short illness at his residence in Dean Street Albury.
1883
April 30 Monday
Albury, Sunday
"Dr. James C. Duncan died early this morning. He was educated in Melbourne, and served in the Franco-Prussian war." (Argus p6)
The Franco-Prussian war was 19 July 1870 - 10 May 1871 in which France was defeated. The Prussian victory resulted in a united Germany.
It seems that Jim was still in Australia during in this war period. Perhaps he travelled to Europe between 1871 and 1873 to help in the medical operations on the wounded?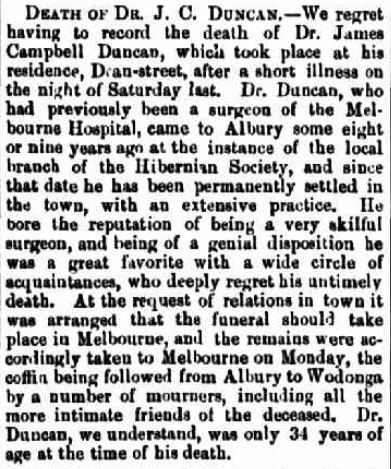 The Melbourne Hospital was in Lonsdale Street, it later became the Queen Victoria Hospital.
Trove; Albury Banner and Wodonga Express May 04 (p13) 1883
1883
August 10
The Albury Banner and Wodonga Express (p10)
Wodonga Shire Council - Board of Health
"Dr. Cleaver Woods, whose name has been submitted by the local board as medical officer in succession to Dr. Duncan deceased, did not appear on the Victorian medical list."
1923
Argus June 11 (p1)
Death Notice (this reproduction in Trove is very difficult to read)
Duncan
"On the 10th of June, at her residence, "Dalmarnock," 406 Cardigan Street Carlton. Mary, widow of the late Dr. James C. Duncan, late of Melbourne and Albury."
So Mary, a widow for over 40 years, lived at the Duncan's family home in Carlton.
Links
Blueseum:
Pre VFL Players
|
Pre VFL Administrators