1860's
Tom Gorman, Career: 1864 - 1871
Tom Gorman
was known as "the pocket Hercules"
That doughty warrior would hold his own,
He had wonderous strength in his collar bone.
1860's
"Such dapper little men
As Duncan, Guy and Hillsden."
1868
August 01 Carlton played H.M. 14th. Regiment led by Lt. Noyes.
One of the co-founders of Carlton
Andy McHarg
recalled 47 years later in an interview with the Sydney sports newspaper The Referee in March 1915, and reprinted in the New Zealand newspaper the Hawera and Normanby Star April 03;
"The Fourteenth met Carlton under
Jack Conway
at Royal Park, and Mr. Jack Blackham, father of the famous wicket-keeper, burst into poetry about the event. Mr.
George Bowen
frequently recited the lines, snatches of which were recited by Mr. McHarg, as follow:
"We've seen the Fourteenth at football play,
With their forage caps and singlets grey;
When Lieutenant Noyes and his broths and bhoys
Came rushing along with a wild hurrah."
Another portion recollected was -
"Knock'em to blazes and bark their shins,
And I'll bet you my life the Fourteenth wins
But sturdy Carlton stood the shock,
Immovable as some sea-girt rock;
The backward dashes, the clouds of foam,
The waves that thronged its stormy home."
Of Jack Conway the poet wrote -
"There was mighty strength in his collar bone,
And there was many a moan and a wirra! ochone!
As Fourteenth after Fourteenth lay o'erthrown."
1873
Oh, if had money plenty,
I'd put it all on the Carlton twenty."
South Bourke Standard 27 June p3
1870's
"And thus it is ever, day by day,
No matter a farthing where clubs play;
At Carlton or Melbourne, which you please,
At Dreamy Hollow with Geelongese,
South Yarra or Richmond - It's all the same -
But play it fair and it is a grand old game."
(Australasian May 02 1931 p22)
Billy "The Little Wonder" Newing, Career: 1869 -1876
1873 Bill Newing's Poem - The Australasian
Around the boundaries hundreds of spectators stand,
The scene presented to us is strikingly beautiful and grand,
Our men are tough as trees with deeply earthed roots
And the ladies quite mutually pronounced them really
"Killing" in their new knickerbocker suits;
Conversing gailey the time has flown-the clock strikes three,
Each combatant is at his post you see
With determined eye and cap pulled on tight,
With body and soul eager for the fight.
Simultaneously every player for the ball has started,
While each man his adversary is tripping and shoving
One has leapt up and caught it,
Its nimble Billy Newing,
Though all make frantic efforts the ball can't be got
And spectators surmise the game is getting hot.
Great Australian Football Stories, Garrie Hutchinson (p18)
1875 Carlton v Melbourne
"Sing godess sing, in sweet poetic strain,
Of those who oft have met - who oft shall meet again.
Alas! my muse is weak, some else must tune a worthier lay,
Of great deeds done - of victory won on Saturday."

"Go forth ye conquered conquerers
Though ye have lost to-day,
What meets it that ye have not gained
The envied laurel bay,
But when ye fight them once again
May I be there to see
How Melbourne strove with Carlton men
To gain the victory."
J.C.D. The Footballer 1875
Jack Conway,Career: 1866 - 1871
Jack came to the club from Melbourne, and it was said that he was responsible for putting "the Carlton into Carlton."
The community poet put verse to paper to pay tribute to Carlton's most revered captain Jack Conway.
The Leader of the club's kindergarten days had this accolade bestowed:
1876 Jack Conway Poem
'There's gladness in remembrance,
-John, of rivals you had few,
When o'er the notorious rugged ground
-you led the famed Dark Blue
You've joined in many a gallant charge
-after the flying leather,
And I often think of the good old days
-when we were boys together.'
Old-'Un 1876
Continued the standard set by his predecessor
Jack Conway
. Donovan was a long time player and administrator of the club.
A few years after his retirement as a player this verse was published in The Melbourne Punch (p91)
1889
.
Donovan stout, with a mighty rush,
Through the serried ranks of the foe would crush,
Leaving behind in a shapeless mass
A dozen of coves on the slippery grass.
1874-1875 Billy Lacey's Poem
I've watched young Lacey follow the ball,
With teeth firm clenched, yet a smile withal,
Out of a scrimmage, without a cap-
A most reliable, sturdy chap-
And wherever he went there were cries of pain,
Shall we ever look on his like again?
1876 Carlton vs Melbourne 10 June
Now sound the clarion, fill the fife,
To all the sensual world proclaim,
One crowded hour of glorious life
Is worth an age without a name.

The stern joy which warriors feel
In foemen worthy of their steel.

'Back Melbourne, back!' is heard on high:
Then 'Forward, Carlton!' is the cry.

A splendid picture they do make,
These heroes of the red and blue,
As ranged in order now they stand
With full 10,000 forms around them thronged,
And twice 10,000 eyes upon them fixed.
A glorious setting to a noble theme.
The Reds are favoured by the fickle goddess,
And as the dial points to half-past three,
Carlton 'Chief' Gardiner begins, with
'Now then, Carlton!'
Carlton v Melbourne 14 July 1877
By an Old 'Un
(Could be "Olympus" aka
George F. Bowen
he quotes part of the poem in Punch May 24 1888)
The poet extolleth Ancient Carlton
Muscular Christains, Hurrah! Hurrah!
Bet your last cent on the Blue and the Grey-
On that band of heroes, so young and strong,
Whose fame has reached even to far Geelong;
For I pit my faith on the men in Blue,
And am proud in my heart that I'm Carlton, too!
I have watched the Club since it first arose
In the Royal Park against myraid foes-
When Donovan stout, with a mighty rush,
Through the serried ranks of the foe would crush;
Leaving behind in a shapeless mess,
A dozen of chaps on the slippery grass;
When the fleet-footed Guy, along each wing,
Like a streak of lightning the ball would bring,
And the last kick get, though half a score
Vainly attempted to pitch him o'er
I've watched young Lacey follow the ball
With teeth firm clenched, yet a smile withal,
Out of a scrimmage without a cap-
A most reliable, sturdy chap-
And wherever he went there were cries of pain-
Shall we ever look on his like again?
Sam Wallace, too, I've watched with awe,
A foeman scruffed in each iron paw-
Two heads on the ground, four heels in the air,
And Sam, with a grin, triumphant there
Bill Newing the nimble, so swift and strong,
Like a meteor burst through the surging throng;
And Dedman, the dodger, the sneak A1
That hath ever sneaked neath Australia's sun!
Our "sky-blue skipper" George Kennedy,
Bought many a club to its bended knee;
For he handled his men with skill and nerve(?)
And though rather slow, was a sturdy player.
The brothers Hillsden were good, though small,
And to charge at Frank meant a nasty fall,
Jack Conway, the captain, so stout and strong,
With a mighty kick sent the ball along;
But he wrenched his leg in a fierce hurhoo,
Which bunged up his football, and cricket, too!
Tom Gorman the pocket Hercules,
A runt'un to tackle, which way you please,
While his brother, poor Billy, now dead and gone,
Got many a goal by screw-kick alone,
And last, but not least, there was little Clark,
Who sneaked and screw-kicked in the Royal Park;
And Lanty O'Brien, the famed punt kick,
Was good in rallies, yet not so quick;
Though not very old, yet he's out of date,
But collars the cash at the Northern gate!
But pinneth his faith with the New
These doughty warriors have passed away,
But men, quite as good, crop up away
To strengthen the glory of Carlton's name,
And blazon her deeds on the scroll of fame!
It cheers my heart, and it warms my blood,
To witness the by-play of stalwart Nudd-
Now here, now there,
Then everywhere;
And those who opposed him rolled in the mud!
To watch young Goer charge right ahead;
Parting the crowd with his neck or head;
With bull-dog courage - tenacious grip-
As waves are parted by flying ship;
To see McGill, like a kangaroo,
Leap after the ball, and mark it too,
O'er a dozen heads, without any fuss,
But his limbs are as long as an octopus!
And wee Paddy Gunn;
With a brilliant run,
Rumbugging the players with lots of fun-
A broth of a boy is his mother's son!
What more exciting than Paddy's charge
On Sillet, of Melbourne, twice as large?
Whilst the Robertsons, in their quiet way,
The very deuce with the Melbourne play;
And Gardiner's rush on the eastern wing,
With just applause made the welkin ring-
Dodging opponents with greatest ease,
And kicking the ball as he best doth please!
McMichael! and Bracken, as foremost men,
Would beard the lion in his utmost den,
Monie (?) I think, without o'er a doubt,
Is one of the best footballers out;
While Murphy and Henry, with nimble feet,
Are very hard in their place to beat.
Coulthard, the athlete, with limbs of steel,
In a scrimmage works like the very de'il;
Turnbull and Rickards are deadly kicks,
And warm to their work like a pair of bricks,
Where all are so good,
Be it understood,
It's rather hard on the best to fix;
But this I must say,
On last Saturday,
I saw the acme of football play.
For the Carlton worked like a grand machine,
With cogs well oiled, and its flywheel clean;
But should ne'er forget in triumphant hour,
That their smart Hon. Sec. is the motive Power!
And hopeth better things for Melbourne.
Melbourne, acushia: wake up! wake up!
"There's a poison drop in man's dearest cup,"
And the poison is rankling in blood and bone,
In a way that makes the Old 'Un groan!
What chance hath your undisciplined host
Against such a team that the Carlton boast?
Work better together, each man in his place,
And try and wipe out this deep disgrace!
Your full-blooded colts under curb and rein,
Reduce once more to the ranks again!
Let your captain's voice be listened to;
And "do" what that cove tells you to "do";
Place cooler men around your citadel,
And once more shall the Old Club show up well-
Show up as it did in the days of old,
With a fearless heart and a bearing bold,
When Harrison, swift as a hunted deer,
Led the Melbourne on with a ringing cheer,
And charging along
Through the foeman strong.
My word! he is sadly waunted here!
"Goldie" and Byrne would follow the ball
Over pavilion, reserve, and all
And rush a la Donovan, ball in hand,
Through the serried ranks of the Carlton band.
Long Carr, the ubiquitous - where is he
With his brilliant marks and jollity?
Big Luff and his brother and Larry Bell,
And Bennie the elder ("old Specs") as well?
"Sacks on the mill," my old friend Tom Hope,
With Ireland and Riggall few men could cope;
Dave Duff, Artful Dodger, and many more,
Have they pass'd away to the Stygian shore?
They say it is the darkest before the dawn;
But the darkest night will be soon be gone,
Next season, no doubt,
You will find this out.
For less games will be lost, and fewer drawn!
(The Footballer 1877)
Parts of The Footballer are difficult to read, (?) denotes a guesstimate.
1877
Carlton has once more regained the premiership-
The sturdy Bulldogs have, by dauntless skill
Made the Dark Blue the winning color still.
1878 "Forward Carlton"
A poem to the tune of "Many Happy Returns Of The Day."
It was reported it was written for, and sung at a Carlton Football Concert and Ball held at Hockins Rooms Elizabeth Street, September 16 1878
(Sporting Globe April 29 1935 p5)
1879 Geelong v Carlton
Dedicated to the "Ever Victorious" Twenty, by "C."
Ten thousand together, ye Knights of the Leather,
Tho' wintry the weather, to cheer you along!
The gray sky is o'er you, the green turf before you.
I don't know what more you could want but a song.

A song with a rattle that tells of the battle,
That tells of the knocks and the shocks of the fray-
Of kicks that slow-soaring, go goalward, and scoring
May settle the fortune and fate of the day.

The Carlton mean winning, and faith, there's no sinning
In those who are pinning their hopes to the Blue;
Well trained, and no lumber in one of their number,
With Gardiner for captain to pull the match through.

But the Dark Blue and White are the twenty to fight,
And none have been able their colours to lower;
A team strong and wiry, with play fast and fiery,
So dauntless and vauntless they come to the fore.

"Now, boys, to your places." Each forward man races,
And almost out paces the ball as it rolls;
And ere half a minute the Pivot are in it,
And go in with a rush for the enemy's goals.

"Now, nearer, boys, nearer!" Look out where it's clearer,
And, forwards, you steer her right through if you can?"
No go - they have it, the Dark Blues have shot it
Right out; the ruck-players are "there" to a man.

Soon Carlton endanger the posts of the stranger,
But off is the ball on its travels again;
"Good mark, Watt, and ready! Right, boys, keep her steady!
For now you must manage the foemen to pen."

But the gallant Dark Blue show that they can mark too,
And quickly they carry the ball from from their end;
While straining each muscle and limb in the tussle,
Geelong are just able their goal to defend.

But the stripes sally, and the rush follows rally,
And all well together the pass the ball back;
Now Fairbairn has gripped it, and through he has "ripped" it,
A forty-yards goal to the Grammar School crack.

Look! once more their working, and not a man shirking,
And loud is the cheering that's ringing around;
For fast travels Goer, and not a bit slower
Their captain has managed to cover the ground.

Paddy Gunn, get it Straighter. - Alas! a miss greater
Than last time! Play, Pivot! your colours to save!
Kicked Richards! Stripes stop it! Yes touched on the hop; it
Was not a goal, but it was a close shave.

Half-time soon is over, the Pivot's in clover,
And Stiffe has a chance, which he misses; and now
Each man on his mettle, to business they settle,
And a "do or die" look comes on everyone's brow.

And now by the railing the Carlton prevailing,
Come down with a rush on the westerly wing;
Another chance buttered! and then a half muttered
Low growl of annoyance ascends from the ring.

The fight becomes tougher, the scrimmage is rougher
With "Sandie" and Watson they haven't a show.
Played! Wilson for ever! A gallant endeavour
To carry, lone-handed, the fort of the foe!



To be completed
1879 The Footballer p68
1879 Carlton v Geelong
"Played! Forty for ever! A better game never
Was fought to the finish, as all have allowed;
For marking and kicking, for "hard-to-it sticking,"
Each man for the Twenty, and not for the crowd."
This poem appeared in the Geelong Grammar quarterly - reproduced in the Geelong Advertiser July 04 p4.
Paddy's Poem
And wee Paddy Gunn,
With a brilliant run,
Humbugging the players with lots of fun -
A broth of a boy is his mother's son!
What more exciting than Paddy's charge
On Sillet, of Melbourne, twice as large?
1880 - Tom Gorman by Edmund Finn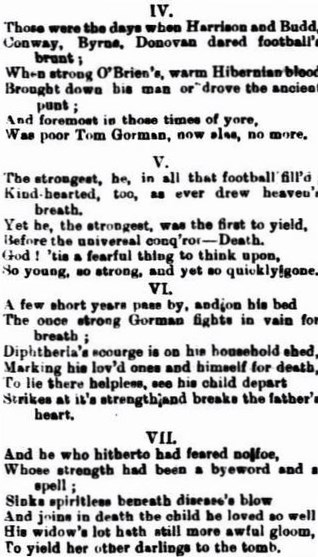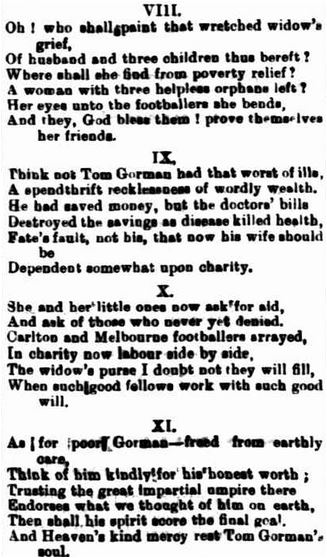 Edmund Finn's Tribute Poem to the tragic death of Carlton champion Tom Gorman
Trove; Hamilton Spectator July 03 1880
"You all knew Coulthard and full many a time
Have seen the stalwart athlete in his prime.
Oft have you marked him where the green grass grows,
A tower of strength - a terror to his foes.
The foremost he, for football's manly game
Was ever linked with poor George Coulthard's name.
He never changed - to Carlton always true.
He donned thro' good and ill the same dark blue."
This was the first verse of a poem by
Edmund Finn (jnr)
recited at the "The Rabbit Club" in a fund raiser for George's widowed wife and child.
(Sporting Globe September 20 1930 p5)
The Rabbit Club - "All the celebrities of Carlton belonged to a social club called the Rabbit Club. The members were called 'bucks'.
On festive occasions members of the Rabbit Club if they wore black bell toppers, had to trim them with white, if white, with black."
(Sporting Globe April 29 1939 p5)
"These doughty warriors have passed away,
But men, quite as good, crop up alway.
To stengthen the glory of Carlton's name,
And blazon the deeds on the scroll of fame.
It cheers my heart, and warms my blood,
To witness the by-play of stalwart Nudd -
Now here, now there;
And everywhere;
And those that oppose him are rolled in the mud."
(Sportsman Nov 28 p3 1888)
1891 - The Day That I Played Football
My name it is O'Hooligan,
I'm a man that's influential,
I work each day and pay my way,
My debts are few and small -
The other day some lads did come,
And they filled me up with gin and rum,
Then took me out into the boiling sun,
To play that game, Futball.

I challenged Carlton and Fitzroy,
South Melbourne and the Essendon,
Port Melbourne, Melbourne and Geelong,
I challenged one and all.
And now I will be footballing drop
My leg is broken, so now I hop -
I'll open up a Doctor's shop -
All through that game, Futball.

Still football is a glorious game,
For instance up in Carlton
Jack Gardiner is in Parliament
And makes a tidy haul.
And who can tell but some fine day
I'll be a blooming M.L.A.,
And will like Gardiner bless the day -
I struggled with Futball.
(Australian theatrical football and cricketers song book 1891, courtesy State Library of Victoria.)
"Thus it is ever, day by day,
No matter a farthing where clubs play -
At Melbourne, at Richmond where you please -
At Dreamy Hollow, with Geelongese;
At St.Kilda, or Carlton - it's all the same;
When they play it fair, it's a Grand Old Game."
(Table Talk May 18 p29)
Old Carlton-1907 Premiers
By
George H. Ievers
- Committeman 1895 & Vice President 1896
This great year of Football has ended,
And old Carlton is still to the fore;
For our Champions have nobly defended
Their title as Premiers once more.

Flynn and Elliott are both grand commanders,
They played for old Carlton rare games;
Both Elliott and Marchbank, 'spite slanders,
Bear still to all sportsmen fair names.

"Mallee" Johnson played football the fairest,
The champion this year he has been;
For his play all round was the rarest,
For his marking the grandest e'er seen.

Bruce and Kennedy's smart play will ever
Round football memories cling,
For their dash through the season so clever
Made them champions this year on the wing.

"Wee" McGregor was "great" all the season,
In the centre no one could oppose;
But Renfrey's sad rush was the reason
Why he lost the last match by a "nose".

"Hacken" Clark, Payne and Beck are terrors,
They played back with great heart and soul;
With Gillespie right back made no errors,
But nobly defended their goal.

Mick Grace, our goal star last year,
Retired ere the season was o'er;
When the League hit old Carlton severe,
Mick returned and kicked goals as of yore.

Silver Caine's great punt took some stopping,
And Kelly, the star of the West,
With Harris and the game little Topping,
Make a quartette that rank with the best.

Jinks and Lang on the ball were splendid,
And both snapped smart goals as well;
Gotz and Hammond most ably defended,
And their dash in the ruck did tell.

Little Ingleman we greet with pleasure,
For his roving, his pluck and pace;
He proved to old Carlton a treasure,
For he took "Wee" McGregor's great place.

When misfortune o'ertook so gravely
Eli Elliott, Marchbank as well,
The great breach was filled so bravely
By Jim Kennedy, young Williams and Snell.

When Vin Gardiner plays like his father,
Who oft captained the old Blues in the past,
In those days of great players-rather,
His fame, like Jack Gardiner's, will last.

Three cheers for our champions to-night, boys,
The old Carlton team so dear;
Three cheers for their flag blue and white, boys,
Which waves for our Premiers this year.
(Centenary Souvenir of the Carlton Football Club 1864-1933)
Written by Cr.
George H. Ievers
on 21st. September, 1907, in honor of Carlton winning the Premiership that day, on the Melbourne Cricket Ground from South Melbourne, after a grand game, which was witnessed by the record attendance of 45,000.
Scores:- Carl. 6.14. 50 - S. M. 6.9.45
1907
The Argus (August 05 p7) report on the Carlton - Collingwood game.
The paper mentions a quote from an old Carlton song.
"Where all are so good be it understood
It's rather hard on the best to pick"
1908 - The Argus 06 June p7
Does no one know where they have slid,
The players whom we used to know?
Where Peter Burn's light is hid
Which lit South Melbourne long ago?
Now Tracker Forbes may only show
His face to barrackers in dreams,
And what of Thurgood's matchless toe? -
But where are New Year's Day ice-creams?

What of the roar that raised your lid
When Worrall started spreading woe?
And where is all that Guinness did
When it was Melbourne's turn to crow?
The damsel with the Carlton bow
No more rushing "Lanty" screams;
And where is Tankard, known as Joe? -
But where are New Year's day ice-creams?

Where is Jack Gardiner, who was bid
Make laws when football got too slow?
Where, too, is Bent, the Brighton kid,
(Who must have played the game, I trow)?
Where Paddy Gunn, Alessio,
And other names whose memory gleams
For their achievements here below? -
But where are New Year's Day ice-creams?

Nay, ask me not my eyes to throw
Back through a past that cloudy seems;
They melt and vanish like the snow -
And where are the New Year's Day ice-creams?
1910 LANTY O'BRIEN OF H. M. CUSTOMS
"Suspecting that some opium might be thrown overboard from the S.S. Empire, Mr. Orlando O'Brien, of the Customs, followed the liner down the bay in the Customs launch. A number of floating objects were observed. But as each parcel was untied, nothing but a shower of dirty rice fell on the deck." The Argus July 02 1910.
The Customs launch in the bay ran busily south,
For nobody knew what opium may be thrown
In the liner's wake to ease the watery mouth
Of the smoker lying in Dog-leg Lane alone.
"Dope on the stabboard bow!" - The launch was stayed,
And the packages fished on deck with a rod and line,
But lo! when the string was cut, I am half afraid
That a Word fell crisp from the lips of Lanty O'Brine.
For never a bit of the good brown stuff was seen,
Theer was naught for even a Dog-leg Laner's smoke,
And the old Orlando gazed with an angry mien,
While somebody said: "The beggars 'ave 'ad their joke."
This jest was nothing to me and nothing to you,
But by-and-by there maybe a terrible shine
When somebody else is paid (with interest due)
For the joke the Chinamen worked on Lanty O'Brine.
(From The Argus, July 02 1910 (p5) The Passing Show by Oriel)
1911 THE GENTLE FOOTBALLER - Punch July 20 p6
1927 Carlton had announced that it is going to pay it's players £6 per match
which prompted this poem in the Australasian November 12 p19.
"Many a promising player will now discover that he always had a warm spot in
his heart for Carlton until Hawthorn or some other suburb can warm it up better with £7 a match."
My heart's up in Carlton
My heart is not here.
There are six solid reasons that
That make Carlton dear.
I would go there at once
For both football and fame.
Not for six quid a week,
But for love of the game.
Farewell to St.Kilda,
The place of my birth.
I leave you my blessing,
For all that it's worth.
But my thoughts and my boots
Have both wandered away.
Oh, my heart is in Carlton,
Wherever I play.
1952 - PERSUASION IN THE "OUTER"
Once more I yells, "Up there, the Blue!"
"Up the Dons," snarls 'e;
(An' there's 'im wiv 'is six-foot-two
Against me five foot-three).
"Up the Blue!" I yells once more,
('E nearly 'as a fit,
An' shapes up, wiv 'is 'airy paw
Against me little mit!)
Me big mate chips, "I'll give 'im row,
'E'd make mincemeat of you."
Then to the bully sez, Well now,
Wot were you gonna do?"
(An' the Don bloke rings 'is tail, the cow,
An' yells, Up there the Blue!")
- Louis Clark (Argus June 06 1952)
CARLTON FOOTBALL CLUB - 1966
("We'll be premiers, you bet!")
By Heather Gridley aged 16.
Excerpts of this poem were published in Robert Pascoe's book "The Winter Game."
Now with thanks to Heather here is the poem she wrote all those years ago.
Serg. Silvagni is the Blues' ruck-rover,
He never stops trying till the match is over;
Though now he is in the veteran stage,
His ability isn't marred by age.

For John Nicholls no introduction's required;
His great skill and strength must be admired;
He's very fair and his strength he'll use
Whenever he's needed to bolster the Blues.

Two handy second ruckmen are Hall and Greenwood ;
Second only to Nicholls, at throw-ins they're good.
Thomas, Jones and Waite in the future will be
Most worthy replacements for the last mentioned three.

Comben, Pleydell, Crane and our plucky Cliff Stewart-
If wingmen's work's to be done, it's these four who will do it.
Fowler, Constance, Morrison, Board, Nankervis
Pushing top rover Gallagher, no wonder he's nervous!

Then comes "Mr. Elegance", alias John Goold;
Other backmen couldn't match him if their talents they pooled.
Backed by Gilbert and the Gills John and Barry namely,
Here's a great backline which makes forwards play tamely.

Top full-back Wes Lofts, Kemp, Anderson and Lloyd-
More stalwart defenders by Carlton employed.
Tenacious Ian Collins throughout every game
Steadily and surely top centreman will tame.

A versatile player is our Ron Stone
Defence, ruck or half-forward - he stands alone.
Bennett, Auchettl, Robertson and Ricky McLean
Are sure to rank as great forwards with the best there has been.

Bryan Quirk as a flanker is unsurpassed
Though this year was not quite as good as his last
With plenty of time to go down in record books,
His potential is equalled only by his his good looks.

Thirty-six is McLean, a skilful ruck-rover
Liked the look of the Blues and from Melbourne came over;
As opponents have tried to beat him in vain,
Pete's proved Melbourne's loss is Carlton's gain.

No, I haven't forgotton our great captain-coach;
As the "Mr. Football" none him can approach;
Ronald Dale Barassi's his celebrated name,
Guernsey Thirty-one, he's won nationwide fame;

Now he's a legend, but he'll have more honours yet-
With this dynamo our leader, we'll be premiers, you bet!"
PRINCES PARK
BY DANNY FAHEY
As a wee lad it was sitting in the smoke filled pub til 1:50
And then the mad dash in dad's beloved old FJ,
Parking in a dank laneway somewhere near the ground,
Followed by the frantic rush with all the other supporters,
Like creeks joining, forming a river, the crowd would gather
Sweeping me along until we hit the Princes Park grasslands
And the grass, like a bright green ocean, would open us up
Before us the gates, the Heatley stand and the shining Carlton monogram.
Behind and around me I'd hear the voices calling like wolves to the moon
'Fooooty re-cord, footy re-cord! Get your fooooty re-cord!'

Later it was a train ride to Royal Park and the slow jog
Around the walls of the zoo and across the many ovals
Kicking newspaper footballs that came apart with each kick
But always lasting until the ground came into sight,
Then once again that Carlton monogram and the waiting gates.
Inside the ground was a push, a human equivalent of a caterpillar,
Segments still and then segments moving until everyone found a position.

Princes Park is the smells, the smells of men and smoke
And old, wet overcoats, the smell of beer in cans and beer on breath,
Or the worse smell of all, the smell of the toilets when dad took me for a pee
And my feet stood in an inch of water mixed with urine
While I waited behind a thousand men for relief.

It's the peanut man who could hit every outstretched hand
As a penny was lobbed for a bag of peanuts,
It's the walk around at halftime with the blanket,
Another player's testimonial and everyone threw a shilling
Or two to contribute to another number's retiring.

In those days the turnstiles clicked as old men in long coats
Hovered like tram conductors, collected your ticket
And I'd stand line, ticket firmly clenched, listening,
Knowing each click meant I was a step closer
To the grand entrance into the ground, the walk up the rise
And the grass, the green, green grass of Princes Park.

Always we'd stand together on the concrete steps
Under the old time keeper's clock, a famous clock
Only beaten by the Clocks of Flinders Street
As the most important meeting place in my life
Until progress tore it down and we lost another piece of history.
Dad and pop and my brothers would be there, and others,
A community of spirits meeting each fortnight under the clock.

I'd scurry in amongst the feet of the crowd gathering 12 tinnies
To make a platform, a wobbly Dias that allowed enough elevation
So that a small kid like me could see above the crowd and catch sight
Of a Jezza mark or a Big Nick tap or a Sydney Jackson drop kick.

As a young man it became a tram ride, the famous number 1 up Lygon
Then the mad dash from the Rising Sun to the ground,
Approaching from behind and entering the gate near the old outside toilet.
Again a walk up the rise and then the view of the grass
And the sound of people's voices, that's the ground for me
People's voices, all shapes, all kinds, calling, chatting, screaming
An ocean of voices, a blanket of sound that gathered me in
And held me captivated throughout the entire game
As people pushed and shoved and lurched this way and that
Ebbing and flowing in sympathy with the game, the sound,
The sound of football, the colosseum scream of Christians and lions.
And around us the stands of Princes Park holding the sound, capturing it,
Increasing it until the whole of Carlton reverberated with the scream 'Ball!'

Then the final siren and the scramble home as dusk turned to dark
And a thousand car horns sound, their air is filled with voices
And radios and the clinking of the tram bells along Royal Parade.
The ground empties, and everyone heads home
Leaving the ground silent, empty and, at least until Tuesday, just a little sad.
Links
Emblems and Tradition
|
Articles