| | | | | | | | | |
| --- | --- | --- | --- | --- | --- | --- | --- | --- |
| Carlton | 5.6 | 36 | 6.9 | 45 | 8.10 | 58 | 11.15 | 81 |
| Collingwood | 2.3 | 15 | 6.9 | 45 | 6.12 | 48 | 9.17 | 71 |

Venue: Princes Park
Date: Saturday August 21, 1937
Result: Win by 10 points
Umpire: Hawkins
Crowd: 17,500
Goalkickers: Wrout 3.4, A. Clarke 2.4, R. Cooper 2.0, K. Shea 1.3, A. Shields 1.2, F. Anderson 1.0, P. Farrelly 0.2, M. Crisp 0.1
Best: F. Gill, R. Cooper, J. Francis, D. McIntyre, M. Crisp, B. Chitty.
Reports:
Injuries: B. Chitty (leg) replaced by F. Gilby in final quarter.
---
Game Review
Keeping its finals chances alive, Carlton prevailed over arch rival Collingwood in a hard fought game at Princes Park. After a strong first term by Carlton, the Pies came back well and looked likely winners, until two late goals to the Blues gave them victory. A difficult cross wind and over-technical umpiring spoilt, to some extent, an otherwise even game.
Horrie Bullen, Rod McLean, Jim Francis, Frank Anderson and George Collard were absentees at Tuesday night's light training session, but all except Bullen were thought likely to be available for the important game against Collingwood on Saturday. Kevin Fox and Fred Ayers were on the park and were expected to recommence in the reserves this weekend, but Gordon Mackie was still restricted by his hand and unable to play. Thursday night was a solid workout, with Ron Cooper, Bullen and Collard (ankle) not at training. Keith Shea and Jack Hale were back from state duties in Perth and trained well and Hale was available for selection after the tribunal cleared him of the rough conduct charge. Three changes were made – Shea, Hale and Fred Gilby (as 19th man) coming in for Collard, Harry Vallence and Norm Cashin.
Carlton won the toss and kicked to the outer end. The wind was blowing across the ground with a slight advantage to Carlton's goal at the Garton Street end. The visitors attacked but twice
Frank Gill
repelled the forward moves. Again, Collingwood went forward and this time
Jim Park
marked in the goal square. Park kicked to
Eric Huxtable
on to
Jack Carney
and to
Jack Wrout
who received a free kick right in front but only managed a behind. The Woods then replied with a behind to Coventry and a goal to Phonse Kyne. Then Wrout had another chance to goal but only scored another behind. A nice piece of play from
Jack Hale
who passed to
Ron Cooper
and he bought up the Blues' first major with a well judged drop kick.
Keith Shea
then flashed in and followed up with another goal from a punt kick of 60 yards. Carlton were starting to dominate and
Arch Shields
added the third goal, and he then passed to
Ansell Clarke
for the Blues' fourth.
Frank Anderson
was on the receiving end of a beautiful Shea drop kick, he marked and goaled. At quarter time the Blues led 5.6 - 2.3.
The wind was now favouring the outer end and Collingwood added 1.2 The Carlton defence led by Gill,
Jim Francis
and Anderson proved a stumbling block for the visitors. Good play by Carney and Shea enabled
Pat Farrelly
to bring up Carlton's first score for the quarter - a snapped behind. Cooper and Clarke gave Shea a chance but he added another behind. Collingwood goaled to reduce the margin to 5 points. Then the 'Woods added a further two goals to hit the front. A nice mark to Farrelly and he kicked to Shea but his attempt dropped short. Shea was in the thick of the action and received a free. His kick into the forward line resulted in a scrimmage and Wrout got his left foot to the ball and snapped a goal to level the scores. At half time the score was 6.9 apiece.
Collingwood attacked and brought up two behinds. Carlton's time with the wind was dwindling. Then
Don McIntyre
,
Bob Chitty
and Wrout combined with the latter adding the Blues' sixth goal.
'Micky' Crisp
kicked a behind, and Shields missed from close in. The 'Woods attacked but once again McIntyre started another forward move and passed to
Bob Green
and then through Crisp and Wrout and onto Clarke and the Blues' captain added another goal. Collingwood attacked but Frank Gill took a clever one handed mark over the Magpie champ Coventry. The third quarter ended with the Blues holding a slender 10 point lead and kicking into the wind in the last term. 8.12 - 6.12.
From the bounce the Blues attacked and Cooper kicked the Blues' ninth goal. Collingwood whipped the ball forward but Coventry missed from close in. Three times they continued the attacks, but Gill, Francis and Huxtable stopped them each time. Carlton then attacked and Shea running into an open goal missed the easiest of chances. Francis muffed a kick-in and the Magpies pounced and added their seventh goal. They quickly added another major and were only 4 points behind. Both teams brought on their 19th man with
Fred Gilby
replaced Chitty. This sparked the Magpies and they hit the front when they scored another goal. Shields received a free kick and his shot added a behind to reduced the margin to just one point. The Blues kept up the attack and Hale drove the ball deep into the forward line where Wrout soared over the pack to mark and goal amid a tremendous roar. Wrout again marked brilliantly, and put the issue beyond doubt when he added the sealer and Carlton's eleventh goal. The Blues running out victors by 10 points.
Carlton sat in fifth place with ten wins after this round, just half a game behind Richmond from the four, but with a higher percentage of 110.0%. St Kilda was the other finals contender, also with ten wins, but a slightly lower percentage than the Blues. This weekend's final home and away season featured three crucial games for these teams. Richmond was up against Hawthorn, St Kilda had Collingwood at Victoria Park and Carlton faced a tough game against Footscray at Western Oval. The make-up of the final four would remain uncertain until these games were over.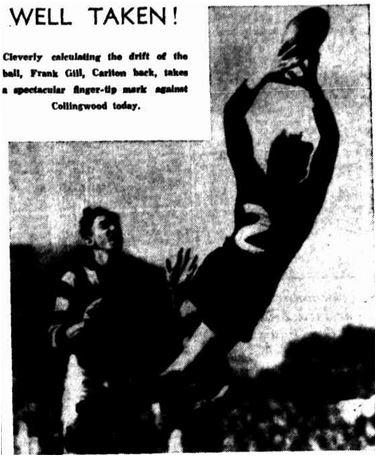 The caption says Gill (21), the 1 is obscured.
Sporting Globe August 21
Team
B:
2 Don McIntyre
21 Frank Gill
26 Jim Park
HB:
9 Eric Huxtable
10 Jim Francis (vc)
33 Bob Chitty
C:
7 Jack Carney
12 Creswell 'Mickey' Crisp
32 Bob Green
HF:
8 Keith Shea
25 Arch Shields
11 Jack Hale
F:
20 Pat Farrelly
28 Jack Wrout
31 Ansell Clarke (c)
Ruck:
14 Rod McLean
1 Frank Anderson
19 Ron Cooper
19th Man:
6 Fred Gilby
Coach:
Percy Rowe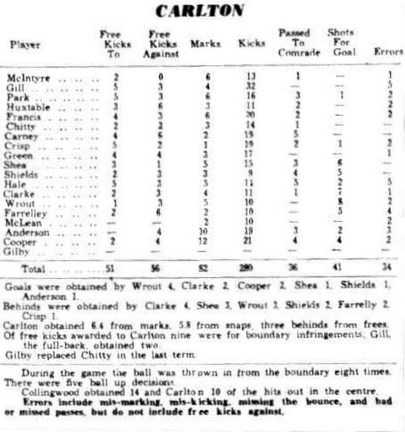 Trove; Sporting Globe August 21
---
Round 16
|
Round 18