| | | | | | | | | |
| --- | --- | --- | --- | --- | --- | --- | --- | --- |
| Carlton | 1.4 | 10 | 4.6 | 30 | 6.10 | 46 | 6.14 | 50 |
| South Melbourne | 1.3 | 9 | 3.5 | 23 | 4.7 | 31 | 6.9 | 45 |

Venue: MCG
Date: Saturday September 21, 1907
Result: Won by 5 points
Umpire: Tulloch
Crowd: 45,477
Goalkickers: G.Topping 3, A.Lang 1, F.Jinks 1, H.Kelly 1.
Best: G.Johnson, J.Flynn, M.Gotz, H.Kelly, A.Ingleman, G.Bruce, F.Jinks, C.Hammond, L.Beck, B.Payne, A.Lang, F.Caine.
Reports:
Injuries:
Game Review
This was one of the great Grand Finals. Although both teams were missing key players through suspension and injury, Carlton and South Melbourne turned on a spectacularly close 1907 Premiership decider that was in the balance right up to the final bell.
After defeating Collingwood by nearly six goals in their Semi Final, South Melbourne eased into slight favouritism in the days leading up to the match. Both sides were short of full strength, with the Bloods missing their rugged follower Bert Franks, centreman Bill Goddard, defender Lindsay Maine and rover Bill Gent. But they had beaten the minor premiers in two of their three previous meetings, and were not short of confidence. The Blues on the other hand, were without star centreman
Rod McGregor
, who had suffered a broken nose in the last of minutes of the
Semi Final
demolition of St Kilda. As well, follower
Fred Elliott
and versatile big man
Jim Marchbank
were still serving suspensions incurred during the ill-tempered clash with the Southerners in round 15. McGregor's replacement was
Alby Ingleman
, who had played only twice before at senior level during the season. Nicknamed 'Badger,' Ingleman was offered the chance of a lifetime by Carlton coach
Jack Worrall
and certainly seized the day. In a tight, even contest from the first bounce, Badger was inspirational when the pressure was on, running hard and straight at the ball all day to be named among the Blues' best in a courageous victory by 5 points.
As was expected, the match opened with plenty of physical clashes, before settling into a battle between the respective centre-lines and followers. South's rucks were proving a handful for the Carlton big men, but the Blues defence stood up to the sustained pressure and Carlton led by 7 points at half-time. The third quarter was a cracker, as both sides threw everything into the contest. South's centre half-forward Bill Strang burst clear of Carlton captain
Jim Flynn
to mark and goal in the first few minutes, but that was to be the Blood's only major of the quarter. Flynn's men tightened up, kicked two goals themselves, and at three-quarter time the Blues had stretched their advantage to 15 points.
Each side had four scoring chances in a monumental last quarter that had the 45,000 spectators roaring as the match reached new heights. The Blues missed each of their shots on goal to advance their score by just 4 points, while the Bloods added 2.2 to draw within one more straight kick as the game ticked into time-on. In the last minute, the Carlton defence swept the ball back into attack as the final bell rang out across the ground, sending Blues supporters into utter delirium.
In a very even performance by a cohesive Carlton combination,
'Mallee' Johnson
,
Jim Flynn
,
Alby Ingleman
,
Martin Gotz
and
Harvey Kelly
stood out – as did coach Worrall, whose preparation of the side was praised by each and every football correspondent of the day. The Navy Blues had now joined Fitzroy and Collingwood as back to back premiers, and as the crowds danced in the streets and taverns around the MCG, the inevitable question was already being asked – could this exceptional team make it to three flags in a row in 1908?
Navy Blues Raise Another Flag
Carlton has won its second successive Premiership, just beating South Melbourne in a hard fought match, and on a softer MCG than might have been expected. The League had decided, after representations from the two clubs, that the MCG should be watered if no rain fell before the Grand Final. The Semi-finals were plagued by a rock hard surface and raised dust. A committee of three old players last night consulted the oracular groundsman Mr Baracchi as to the prospect of precipitation. On his advice they decided - correctly - to water the ground. Carlton were overall taller and heavier than South Melbourne and this told on the 'Lagoonites' in the end. Carlton withstood a Southern fightback in the last quarter to win by five points. Appropriately 'The Silver King'
Frank Caine
, was shooting for goal as the bell rang, and thousands of spectators swarmed on to the field.
Jim Flynn
modestly gave the laurel to coach
Jack Worrall
, but his own role was substantial, as he had returned for the Finals after a mid-season retirement. And
George Johnson
named by the
Australasian
as the player of the season, was the biggest and best big man on the ground.
- 100 Years of Australian Rules Football.
OLD CARLTON - 1907 PREMIERS
This great year of Football is ended,
And old Carlton is still to the fore;
For our champions have nobly defended
Their title as Premiers once more.

Flynn and Elliott are both grand commanders,
They played for old Carlton rare games;
Both Elliott and Marchbank, 'spite slanders,
Bear still to all sportsmen fair names.

"Mallee" Johnson played football the fairest,
The champion this year he has been;
For his play all round was the rarest,
For his marking the grandest e'er seen.

Bruce and Kennedy's smart play will ever
Round football memories cling,
For their dash through the season so clever
Made them champions this year on the wing.

"Wee" McGregor was "great' all the season,
In the centre no one could oppose;
But Renfrey's sad rush was the reason
Why he lost the last match by a "nose".

"Hacken" Clark, Payne and Beck are terrors,
They played back with great heart and soul;
With Gillespie right back made no errors,
But nobly defended their goal.

Mick Grace, our goal star last year,
Retired ere the season was o'er;
When the League hit old Carlton severe,
Mick returned and kicked goals as of yore.

Silver Caine's great punt took some stopping,
And Kelly, the star of the West,
With Harris and the game little Topping,
Make a quartette that rank with the best.

Jinks and Lang on the ball were splendid,
And both snapped smart goals as well;
Gotz and Hammond most ably defended,
And their dash in the ruck did tell.

Little Ingleman we greet with pleasure,
For his roving, his pluck and pace;
He proved to old Carlton a treasure,
For he took "Wee" McGregor's great place.

When misfortune o'ertook so gravely
Eli Elliott, and Marchbank as well,
The great breach was filled so bravely
By Jim Kennedy, young Williams and Snell.

When Vin Gardiner plays like his father,
Who oft captained the old Blues in the past,
In those days of great players-rather,
His fame, like Jack Gardiner's, will last.

Three cheers for our champions to-night, boys,
The old Carlton team so dear;
Three cheers for their flag blue and white, boys,
Which waves for our Premiers this year.
G. H. Ievers' Poem
Written by Cr.
George H. Ievers
on 21st. September, 1907, in honor of Carlton winning the Premiership that day, on the Melbourne Cricket Ground from South Melbourne, after a grand game, which was witnessed by the record attendance of 45,000.
Scores:- Carl. 6.14. 50 - S. M. 6.9.45
(From the Centenary Souvenir of the Carlton Football Club, 1864-1933)
Team
Changes
In:
A.Ingleman
Out:
R.McGregor
An Interview With Jim Flynn
The Argus
of Monday, 23 September, published an interview with Carlton captain
Jim Flynn
about the match.
To read, click here>
http://nla.gov.au/nla.news-article10160360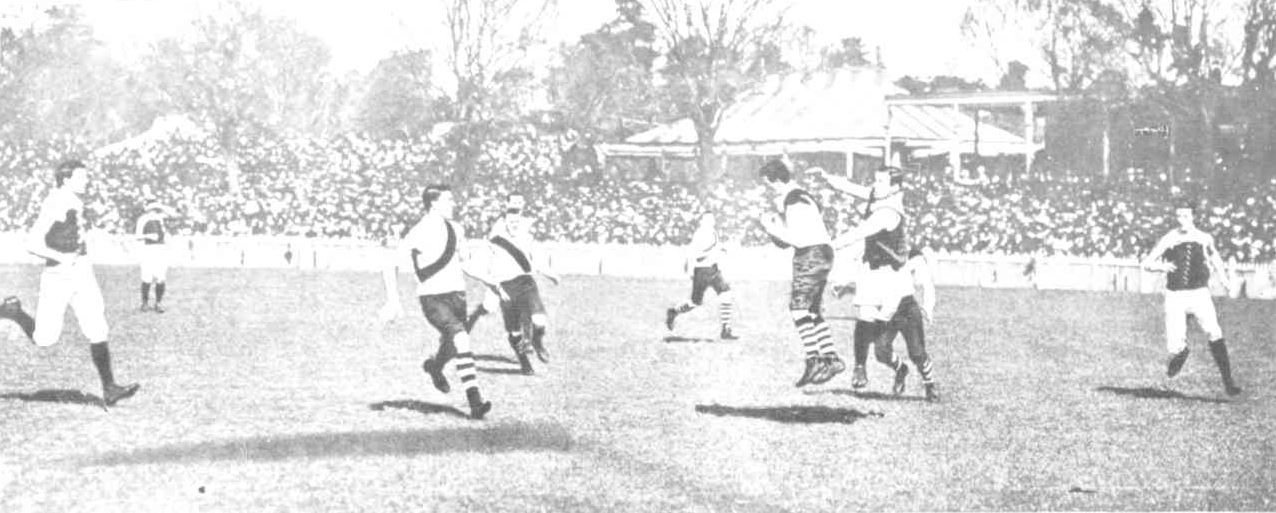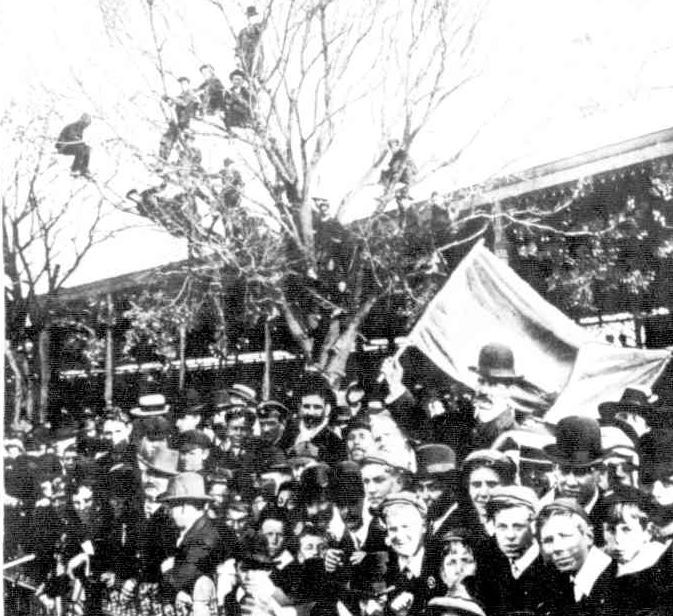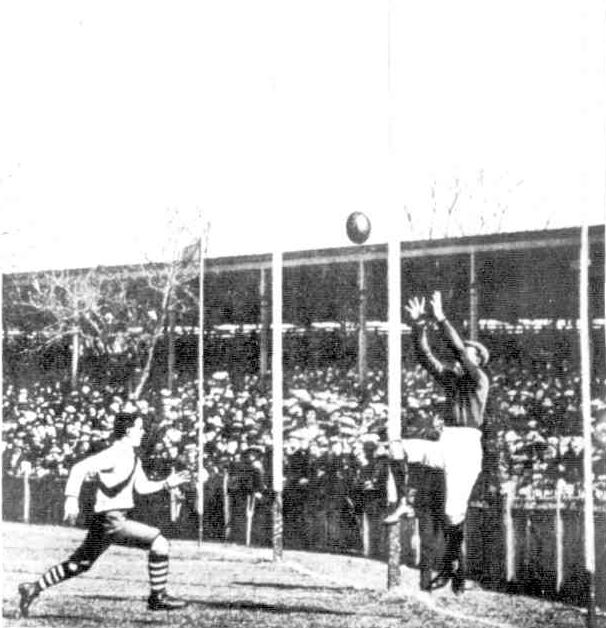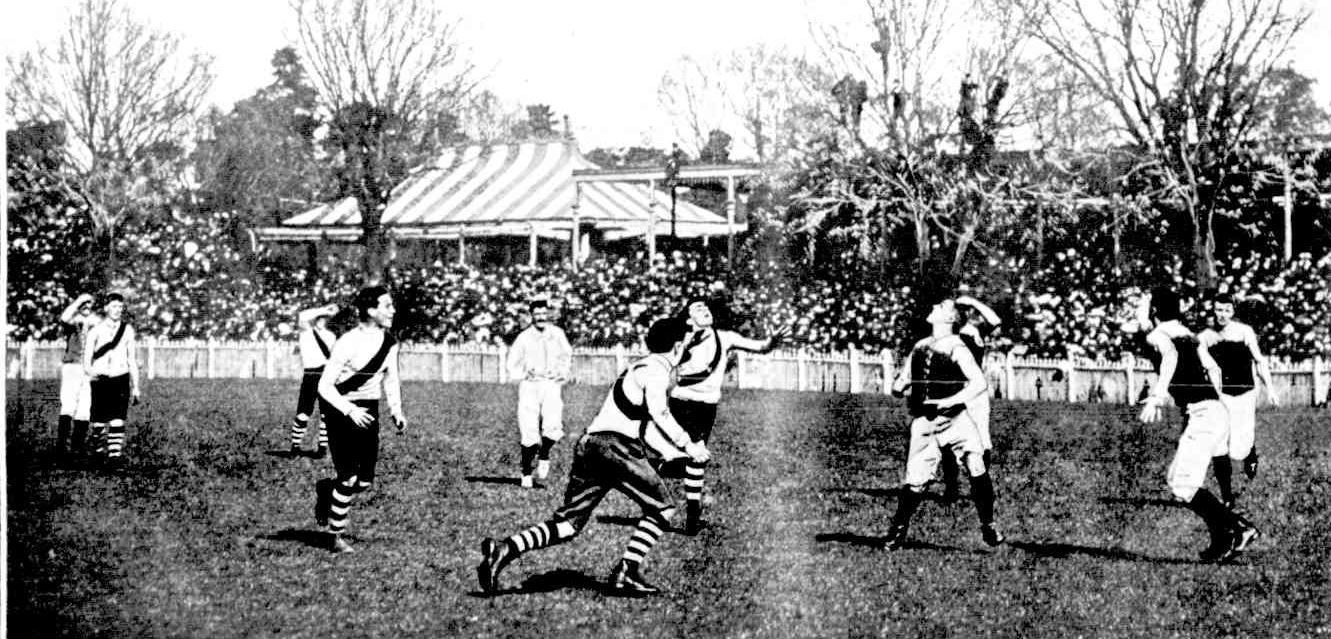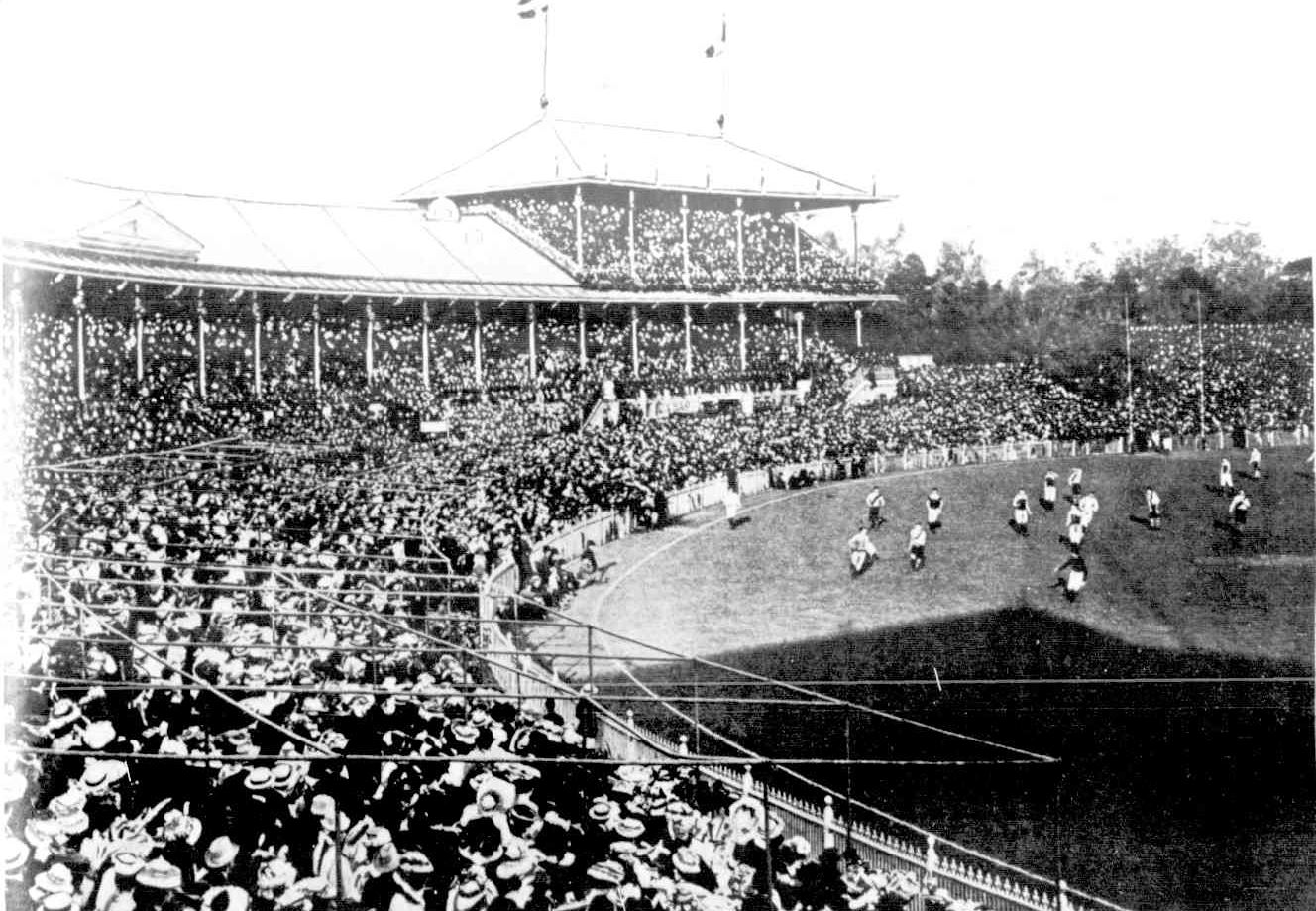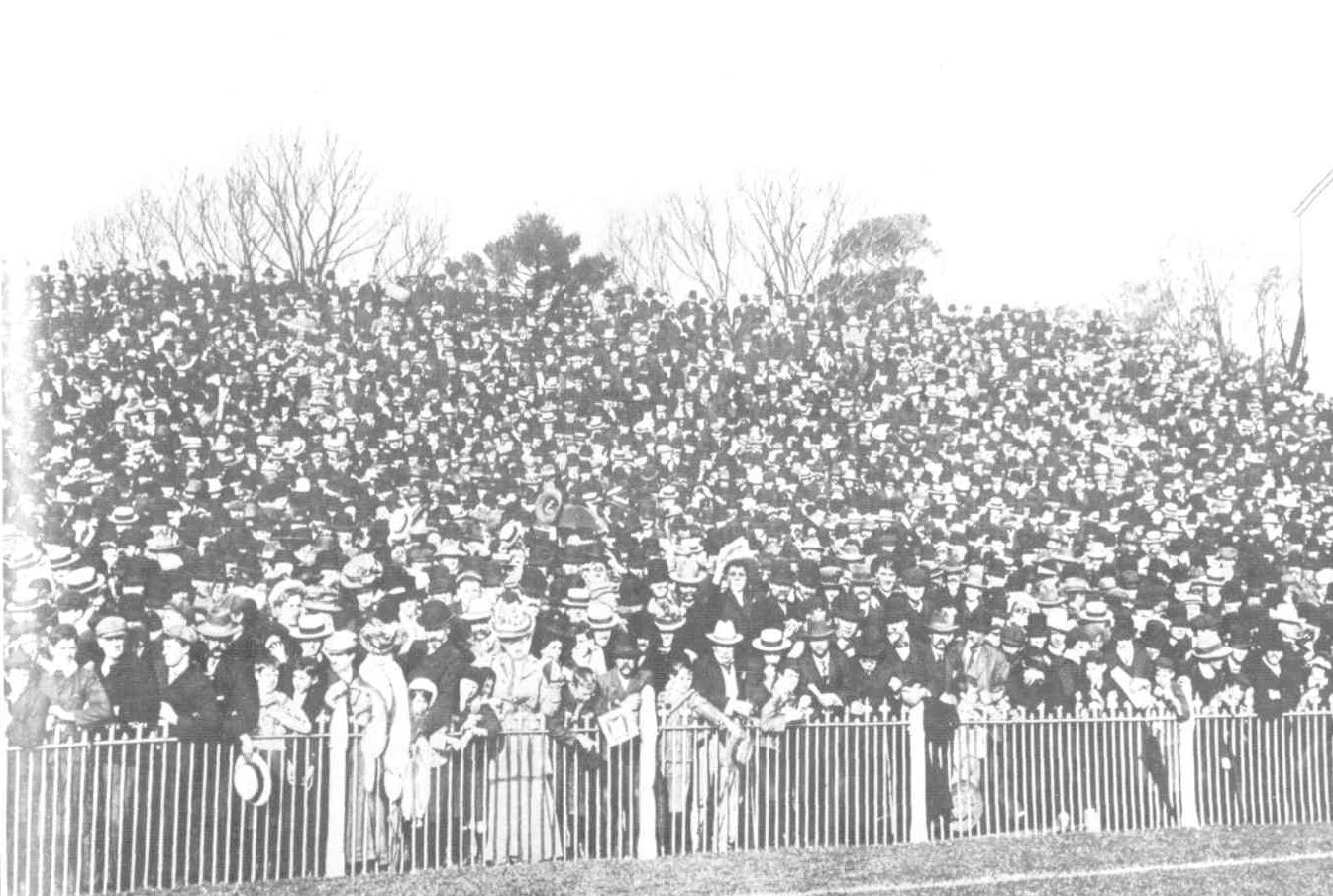 Footnotes
The field umpire in this Grand Final was 'Lardi' Tulloch – former captain of Collingwood in their successive Premierships in 1902-03.
One of South Melbourne's best players on this day was follower Hughie Callan, who was to be tragically killed in action in World War 1.
More extensive coverage of this game can be found in a special Blueseum feature article, found
here
.
The football used in this match was one specially made by T. S. Sherrin, well known local manufacturer.
At the same time, next door at the East Melbourne C. G. 18,000 people attended the semi final between Richmond and West Melbourne in the "second-grade competition" VFA. West Melbourne won. (Trove: Sydney Sportsman September 25 p7)
Milestones
Last game
(at Carlton):
Mick Grace
---
Semi Final, 1907
|
1908