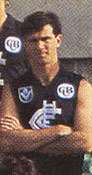 Career : 1987 - 1991
Debut : Round 1, 1987 vs Hawthorn, aged 22 years, 154 days
Carlton Player No. 941
Games : 54
Goals : 119
Last Game : Round 24, 1991 vs Richmond, aged 26 years, 310 days
Guernsey No. 18
Height : 195 cm (6 ft. 4 in.)
Weight : 92 kg ( 14 stone, 7 lbs.)
DOB : 24 October, 1964
Another in a long list of VFL/AFL footballers in the category of "could have been anything, but for injury," West Australian Peter Sartori spent eight seasons with Carlton and Fitzroy between
1987
and
1994
, yet managed only 77 games all up. A tall ruckman-forward, he had rare ability and all the physical attributes needed, but sadly, his body let him down with monotonous regularity.
Sartori was just 17 when he played his first senior match for Swan Districts, and 18 when he suffered his first major injury - a ruptured kidney – which kept him out of the Swans' 1982 Premiership side. When he did eventually return to the field however, he clicked into rare form. His marking skill, versatility and intuitive reading of the play made him a driving force in both of the Swans' follow-up flag victories in 1983 and '84. By 1986 he had represented WA twice, won his club's Best and Fairest award, and well and truly caught the eye of just about every AFL club.
Carlton won the contest for his signature, and Sartori came to Princes Park to augment a growing contingent of star forwards with WA origins – a group that would eventually include
Peter Bosustow
,
Ross Ditchburn
,
Warren Ralph
,
Jon Dorotich
,
Richard Dennis
and
Earl Spalding
. Yet competition for places was fierce, as the club also had
Stephen Kernahan
,
Simon Minton-Connell
and
Warren McKenzie
on its books at the time.
Sartori was assigned
guernsey number 18
, and made his debut for the Blues in
round 1, 1987
, against Hawthorn at Princes Park. His first half-dozen games were rather unremarkable, before he strained a hamstring to cut short his progress, and didn't return to the seniors until late in the season. Then, in only
his eighth game
, the big Sandgroper showed what he was capable of when he and his captain,
Stephen Kernahan
went on a rampage against Geelong at Kardinia Park, and kicked a massive 15 goals between them. 'Sticks' booted eight, and Sartori contributed seven in a display of forward power that had Carlton supporters in rapture.
That joy lasted for only a fortnight – until the first week of the finals. After a torrid year, the Blues had claimed the minor premiership, and met Hawthorn in what proved to be the defining match of the season in the second
Semi Final
. Trailing by 15 points at the main break, Carlton stormed home to win by that same margin – but at a cost. Sartori's hamstring tore again, and his year was prematurely ended. He had kicked one goal on the day, and set up two others with skilful palming of the ball to Johnston and Naley. The Johnston goal came from a clever flip over the back of the pack to the Dominator, who goaled with a right foot snap. In the following quarter at the main scoreboard end, Sartori deftly palmed the ball to Naley in heavy traffic, and his clever snap brought up another telling goal. Both of those scores were the direct result of clever ruckwork by the big West Australian, and showed that it was a much-underrated facet of his game. However, that was all academic in the end, because he could only watch on in frustration two weeks later, when his team decisively beat the Hawks yet again in the
Grand Final
.
Sartori's rehabilitation took longer than expected, and he didn't make another senior appearance until
round 14, 1988
against Collingwood at the MCG. Playing at full-forward, he kicked three goals in a match better remembered for
Stephen Silvagni
's soaring Mark of the Year over Magpie Craig Starcevich. After that, Sartori stayed match-fit for the rest of the year and kicked an impressive 29 goals in only 12 matches, although the season ended on a sour note for everyone at Carlton when Melbourne upset the Blues by 22 points in the
Preliminary Final
.
In
1989
another early-season injury wrecked Sartori's prospects completely. He managed only five games and four goals after making it back for the late-season rounds, while his team slumped to eighth place on the ladder after a decade of dominance.
Carlton stayed among the also-rans in
1990
, although Sartori at last managed to string together a consistent series of matches, highlighted by a six-goal haul at full-forward in a big victory over Fitzroy in
round 9
. He didn't know it at the time, but that game was to have a big influence on his career in the not too distant future.
In
1991
Sartori continued to be an almost automatic inclusion in Carlton's senior side whenever he was fully fit. He steered through another 29 goals in ten games, but when the Blues tumbled down the list to eleventh, the club decided enough was enough. Carlton embarked on a determined mission to get champion Sydney centreman
Greg Williams
to Princes Park, and eventually succeeded in negotiating a complex deal that saw Sartori and
Ashley Matthews
packed off to Fitzroy (along with a number of draft picks), while
Simon Minton-Connell
went to Sydney to be joined by Fitzroy's Darren Kappler.
It proved to be an advantageous deal for almost all concerned, apart from Sartori. Still frustrated by his fragile body, he spent another three seasons with the Lions, adding only a further 23 games and 19 goals to a record that deserved to be a whole lot better.
Milestones
50 Games: Round 20, 1991 Vs Geelong
100 Goals: Round 19, 1991 Vs Melbourne
Video
Links
Articles:
Trading for Williams
Blueseum:
Stat Shot for Peter Sartori
|
Career Breakdown for Peter Sartori
|
Sartori's Image Gallery