Carlton Career (VFA): 1885-1892
Premiership Player (VFA) 1887.

Carlton Captain: 1890
Height: 175cm
Weight: 82kg
Games: 138 approx, plus approx 28 non VFA games.
Committee: 1889-1893*
Carlton Vice Captain: 1887,1888
Champion of the Colony (At Collingwood): 1896
DOB: August 17, 1864 Sandringham Vic
DOD: November 24, 1959 Buried at Sutherland NSW
Billy Strickland played for Carlton in the VFA between
1885
and
1892
, including our Premiership year of
1887
.
Shortly thereafter he joined Collingwood (he stood down from the last game for Carlton in the 1892 season against Collingwood (which was also Collingwood's first victory against Carlton) and from 1892 he was at Collingwood, including being their first Captain in the VFL (1897). This was his last year of playing football.
1885
Billy Strickland a new recruit from Brunswick.
1886
Began to develop his prowess, he was a towering force in the early games.
1887
W. Strickland (vice captain) - Fast; plays back on wing.
(Half back flank)
"The vice-captain (W. Strickland) is a wing player. He is very fast, a sure mark, and good kick."
1887
"The Australasian" named him as one of the stars of Carlton as a wing and was one of the stand out players for Carlton against South Melbourne at the M.C.G. on June 25 1887.
1887
C.F.C. Annual Report Strickland scored 1 goal during the season.
1888
Gave the Blues splendid service.
1890
Captain and one of Carlton's best.
1891
Helped lift the Blues to second position.
1892
September 24
Billy Strickland was named in the 24 man squad to play against Collingwood at Victoria Park, as mentioned above, he stood down for this match.
This seems odd as he was elected to the Carlton Committee the following March.
See March 29 1893 below.
1892
Among Carlton's best players.
Strickland appears in the 1887,1888,and 1891 Carlton Football Club team photos.
1893
March 29
_* Elected to the Carlton committee at the AGM.
W. Strickland a few weeks later would walk out on the club and go to Collingwood.
1893
Had been a Carlton champion and at Collingwood he rose to the same heights, and led Collingwood to their first ever V.F.A. flag in
1896
.
Tranferred to Collingwood on the eve of the
1893
season along with
H. Simpson
and
George Williams
.
(The Carlton Story, H. Buggy and H.Bell. p 57, 58, 60, 64,67, 69, 71, 72, 259.)
1893
Click below to read The Argus report of the V.F.A. Permit Committee proceedings about Strickland's transfer application.
Also an insight into the Blues leadership and on field problems.
From The Argus May 4 1893.
National Library of Australia
http://nla.gov.au/nla.news-article8546512
1893
May 13
The Clipper (Hobart) p2 said; "Did you receive 200 pounds over the match played the season before last? was a query put to Strickland of Carlton."
1893
Strickland and Simpson debuted in the May 27th. clash Collingwood vs Essendon.
1894
September 22
Captained a VFA combined team in a charity match against the 1894 premiers Essendon, at Victoria Park.
1896
October 05
The Argus reporting on the Collingwood-South Melbourne grand final said of Strickland-
"Old members of the Carlton club present must have realised what a stupendous mistake they made when the team took sides some years ago on the question of captaincy, and rejected Strickland in favour of another man, who, though a fine player, never once showed the least talent for leadership."
1896
October 10
"To Strickland, a shining light of the old and illustrious Carlton team, much of the credit for Collingwood's victory is due. As captain, he has, during the season proved himself as 'cute as he his effective and ubiquitous, and his generalship on Saturday made the grandest
coupe
of all."
(Champion p7)
Strickland was Collingwoood's first Coach (1904).
Relation of
T. Strickland
? Not a brother, maybe a cousin.
In
1900
, Strickland's nephew,
also named Bill
, played a single game for Carlton.
1913
The Sydney Morning Herald, March 5, reports;
"The name of W. Strickland, the old Carlton and Collingwood player, appears amongst the members enrolled in the Balmain District Club.
As a player Strickland is very well known, but it is perhaps, as a football legislator that he is best known. He has represented Victoria on the Australasian Council, and holds a record as manager of past Victorian interstate teams. His experience should prove beneficial not only to the Balmain club, but to the game in general in New South Wales."
Arguably best remembered as Collingwood's first ever premiership captain, Billy Strickland had already been playing football for more than a decade when he joined the Woods in 1893. After beginning with Brunswick in that club's pre-VFA days, he joined Carlton in 1885, and in eight seasons with the club proved himself one of the most prodigiously talented centreline players in the game. He was also an extremely disciplined and determined individual, and by introducing these qualities to Collingwood he was heavily instrumental in transforming a makeweight combination into the best in the colony. Strickland was ostensibly the team's centreman when it beat South Melbourne to secure the 1896 VFA premiership, but he played more like a follower, roaming far and wide in search of kicks, as well as coordinating his team's activities at first hand. His inspirational, energetic performance, together with some astute tactical decisions, were important factors in Collingwood's eventual narrow win.
Billy Strickland's final season, 1897, was Collingwood's first in the VFL, and he captained them to 3rd place, besides playing 16 of their 17 matches for the year. On an individual note, the highlight of his career occurred in the Woods' premiership year of
1896
when he was voted Champion of the Colony by Melbourne's football journalists.
1
1 - From
Fullpointsfooty
1930
July 04 Friday (p14)
On the eve of the Carlton - Collingwood game "Old Boy" of the Argus said of Strickland;
"Collingwood owes much to Carlton, for it's first captain was W. Strickland, who had made his name with the Blues. The influence of Billy Strickland, one of the finest sportsmen who ever played the game, is still felt at Victoria Park. He established the side on strong, vigorous lines, and year after year teams wearing the black and white livery have endeavoured to live up to the traditions then set."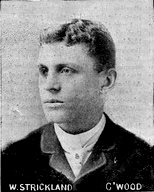 Links
Articles:
Carlton in NSW, 1890
|
When Carlton and Collingwood were friends...
|
1888: Carlton v England
|
The Fish that Got Away
Blueseum:
Pre VFL Players
|
Pre VFL Captains
|
Pre VFL Vice Captains
|
Pre VFL Administrators
|
Strickland's Blueseum Image Gallery