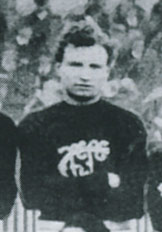 Career : 1905 - 1909
Debut : Round 1, 1905 vs Essendon, aged 25 years, 340 days
Carlton Player No. 177
Games : 90
Goals : 29
Last Game : Grand Final, 1909 vs South Melbourne, aged 30 years, 124 days
Height : 179 cm (5 ft. 10½ in.)
Weight : 80 kg (12 stone, 7 lbs.)
DOB : 31 May, 1879
Premiership Player 1906, 1907, 1908
George Sydney 'Mallee' Johnson was a star for Carlton in each of our first three Premiership teams. Although he played just five seasons for the Navy Blues and left the club in bitter circumstances, there is no doubt that he was one of the most influential players of his era.
George came to Princes Park in
1905
at the age of 25, to continue an adventurous life that had already included two years of military service with the Royal Australian Artillery, a brief sojourn with a volunteer mounted infantry unit during the last months of the Boer War, and a season with Richmond in the VFA, where he came to prominence at centre half-back. Already answering to the moniker 'Mallee' (the origins of which remain obscure) Johnson and Carlton coach
Jack Worrall
found a quick rapport - even if Worrall was said to have expressed concern at first about George's apparent lack of pace.
When Carlton's
1905
VFL season began at Princes Park in May of that year, 'Mallee' Johnson was one of five players who made their debut for the Blues in
an 8-point win over Essendon
. Another was
Charlie Hammond
, who in time was destined to join Johnson in one of the most formidable ruck combinations of the decade.
Carlton finished third on the eight-team VFL ladder in
1905
, and thrashed Collingwood by 46 points in the
Semi Final
. Johnson played at centre half-forward on that day, and was in the key forward post again the following week, when the Blues proved no match for a the eventual Premiers Fitzroy in the
Preliminary Final
. Carlton had fallen at the second-last hurdle, but served notice that we had, at last, assembled the basis of a team capable of winning the flag. And that is precisely what happened in
1906
.
Further boosted by the arrival of quality recruits like
Alex Lang
,
Doug Gillespie
,
Les Beck
and
Fred Jinks
, Carlton was the outstanding team of the 1906 home and away rounds, finishing one win clear of Fitzroy on top of the ladder. After returning to centre half-back, Johnson was solid in both of Carlton's finals matches, culminating in an emphatic 49-point domination of the Maroons in the Old Dark Navy Blues' first-ever
VFL Grand Final victory
. Worrall's clever recruiting, and his unshakeable belief in personal and team discipline, had brought that precious first Premiership to Princes Park at last.
Ever the innovator, Worrall believed in immediately seizing the initiative in a game by utilising a powerful following division. Because he wanted his strongest and hardest players in the thick of battle, in
1907
he switched 'Mallee' into the ruck, with
Charlie Hammond
in support. This pair of hard nuts soon clicked as a combination, and drove the Blues to a second successive Premiership in a
Grand Final thriller
against South Melbourne. Johnson was widely acclaimed as Best on Ground against South, having 'played to exhaustion' in lifting the Blues to victory.
Richmond and University were admitted to the VFL in
1908
, expanding the competition to ten teams. 'Mallee' was selected in the Victorian State team for that year's Jubilee ANFC carnival, and capped off another stellar season when Carlton fought off a dogged Essendon team to claim an unprecedented third Premiership on the trot. This time,
Charlie Hammond
was the Grand Final star for Carlton, as the Blues won by 9 points in a low-scoring slog. 'Mallee' too, was feted again for his whole-hearted performance, when thousands of Blues' supporters streamed into Princes Park to join in the celebrations.
Season
1909
brought the revelation that Jack Worrall's iron discipline was not totally accepted by all of the Blues' players. After a revolt was led by defender
Norman Clark
, Worrall resigned as coach of the club in July – although he did stay on in the role of Secretary.
'Pompey' Elliott
became captain-coach, and somehow Carlton not only made the finals, but finished second on the ladder (by percentage) to South Melbourne.
Striking top form again, Carlton beat Essendon by six goals in the
Semi-Final
, then demolished South by 22 points in the
Preliminary Final
. However, although they were beaten, South claimed their right - as minor premiers – to challenge Carlton to a rematch in the Grand Final. This time, the Bloods turned the tables in an epic struggle, and downed the Blues by just two points. For the third Grand Final in a row, 'Mallee' Johnson was included in Carlton's list of best players. Sadly, it was to be his last game for the Navy Blues.
At the club's Annual General Meeting in March,
1910
, a 'reform group' swept to power and unseated virtually all of the previous administration, including Worrall. Then, in the wake of Jack's farewell, no less than seven of Carlton's biggest stars went with him.
Fred Jinks
,
Les Beck
,
Charlie Hammond
,
Frank Caine
,
Harvey Kelly
,
Ted Kennedy
and 'Mallee' Johnson were all lost to the club in an episode that the Australasian newspaper said; 'smacked of both folly and ingratitude.'
Along with 'Silver' Caine, Hammond and Beck, Johnson immediately crossed to VFA club North Melbourne, in a sensational recruiting coup orchestrated by the Shinboners' livewire Secretary Andrew Curran. Not surprisingly, the Northeners cantered to the Premiership, with a big Grand Final win over Brunswick. The only drawback to that triumph was that the 1911 team was weakened by numerous departures. and finished third.
Next up, 'Mallee' earned an unfortunate distinction when he was appointed captain-coach of Melbourne City Football Club for its entry into the VFA in 1912. During their brief two-year existence in the Association, the City Men played 36 matches – and lost them all. Johnson stayed for one season, but couldn't wait to get away once his obligations had been fulfilled.
Meanwhile, Andrew Curran had crossed from North Melbourne to Prahran, and it was probably he who convinced the Two Blues to appoint 33 year-old Johnson as playing coach for 1913. 'Mallee' retired as a player seven matches into the season to concentrate on coaching a young side, only for a spate of injuries to force him into a comeback late in the year. With Johnson leading by example in the ruck, Prahran seemed likely finalists with three games remaining, but faltered when it mattered and wound up fifth.
'Mallee' Johnson called time on a remarkable career at the end of that year, after a decade of elite-level football and four flags. An immortal of the Carlton Football Club as one of eleven players to represent the Blues in all of the clubs' first three VFL Premierships, he passed away on the 5th September, 1948, aged 69.
Milestones
50 Games:
Round 16, 1907
vs Essendon
Links
Articles:
Carlton's Hat-Trick Heroes
Blueseum:
Summary of playing statistics for George `Mallee' Johnson
|
Johnsons' Blueseum Image Gallery