| | | | | | | | | |
| --- | --- | --- | --- | --- | --- | --- | --- | --- |
| Carlton | 1.3 | 9 | 1.3 | 9 | 3.3 | 21 | 3.5 | 23 |
| Collingwood | 0.1 | 1 | 2.2 | 14 | 2.2 | 14 | 4.3 | 27 |

Venue: Brunswick Street Oval
Date: Saturday September 5, 1903
Result: Lost by 4 points
Umpire: Ivo Crapp
Crowd: 16,600
Goals: M.Crowe 1, B.Lithgow 1, A.Snell 1.
Best: E.Walton, G.Ross, J.Opie, A.Trim, G.Bruce, A.Ford, H.McShane.
Reports: Nil
Injuries: Nil
---
Game Review
This landmark match - played between Carlton and Collingwood at the Brunswick Street Oval in Fitzroy on September 5, 1903 - was Carlton's first League final in their 117th League game.
Under the rigid discipline of coach
Jack Worrall
, the Blues had produced excellent team football at times throughout the season, but big match inexperience also brought about a number of shock losses. Overall, third place on the ladder was a just result, and the Blues entered the finals as a definite Premiership threat.
Neither side was at full strength.
Charlie Roland
,
Billy Leeds
and
George Topping
were among those missing for Carlton, while the Magpies were unable to call on the talents of the League's most prolific forward; Ted Lockwood. Still, the match had all the intensity that had made the previous two meetings between these clubs such memorable contests.
From the opening bounce, defences dominated, to the extent that only five goals were scored by three-quarter time, with Collingwood just in front by seven points. The Blues threw everything at the Magpies in the last quarter and had the better of general play, but their anxiety proved costly. With only a couple of minutes remaining, and Collingwood up by five points, Carlton's most reliable forward in
Joe Sullivan
took a set shot at goal from a tight angle, and his kick just missed. The Blues were beaten, but they were far from disgraced.
The following weekend at the MCG, Collingwood claimed the 1903 VFL Premiership when they defeated Fitzroy by two points in the Grand Final.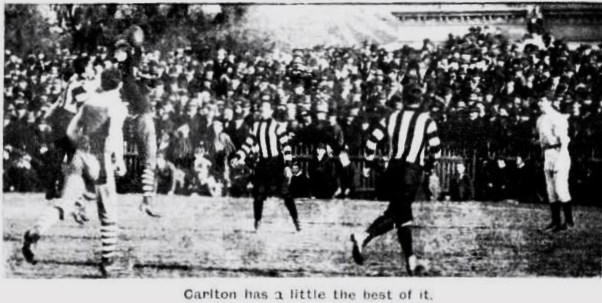 Images; Punch September 10 p17
Team
Changes
In :
J.McShane, M.Crowe
Out :
J.Marchbank, J.Stephenson
Milestones
Last Games :
Joe Sullivan
and
Gordon Ross
Interesting Fact:
This was
Carlton's first final
Interesting Fact :
This was
also Carlton's lowest ever score in a final
---
Round 17
|
1904