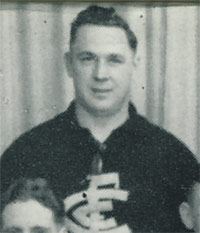 Career : 1938 - 1946
Debut : Round 1, 1938 vs Hawthorn, aged 21 years, 244 days
Carlton Player No. 541
Games : 118
Goals : 93
Last Game : Round 17, 1946 vs St. Kilda, aged 29 years, 360 days
Guernsey No. 31
Height : 174 cm (5 ft. 8 in.)
Weight : 88 kg (13 stone, 12 lbs.)
DOB : August 21, 1916
Premiership Player : 1938, 1945
Although he was a popular member of two Carlton Premiership teams, Charlie McInnes' contribution to the Carlton Football Club during the harsh years of World War II has perhaps been downplayed because of the number of times he sat on the reserve bench for his team. That in itself however, is a tribute to the versatility - and the loyalty - of a fine player who wore the number 31 guernsey into battle on 118 occasions for the Navy Blues, and kicked 93 career goals.
Recruited by Carlton from Tyntynder in northern Victoria in
1938
, McInnes unknowingly set a precedent by being named as 19th man in his first two senior games. In his
third
match he played forward and kicked two goals, before Blues coach
Brighton Diggins
sent him to a half-back flank - where the barrel-chested, heavy-set dasher also did well. Back when there was only one spot on the bench, the 19th man could replace an injured team-mate, but then had to stay on the field for the rest of the game. Therefore, versatility was a prime requisite for the 'bench warmer', and Charlie fitted the bill.
A late-season leg strain kept him out of Carlton's
1938 Semi Final victory over Geelong
, but when he proved his fitness in the week prior to the
Grand Final against Collingwood
, he was included in the side at the expense of
Eric Huxtable
. Then, under the inspirational leadership of
Brighton Diggins
, and in front of a massive record crowd of 96,834 at the MCG, Carlton outsmarted and outplayed the Magpies to win the Blues' first Premiership for 21 years. Charlie McInnes and
Ken Baxter
were the only two first-year players to make that Grand Final team.
After Carlton suffered the almost-mandatory Premiership hangover and finished fifth in
1939
, Australia was swept into the maelstrom of World War II. Like hundreds of other VFL players, McInnes signed on to do his bit, and was posted to the Australian Service Corps. One of the fortunate ones, his duties allowed him to continue playing with Carlton throughout the war years. As a result, he became a stalwart of a Blues team that was often disrupted when players were sent away to the many theatres of war within Australia and overseas.
When
Percy Bentley
replaced
Brighton Diggins
as coach of the Blues in
1941
, McInnes became one of the Blues' go-to men in attack. Charlie may not have been the most accurate kick for goal in the team, but his ball-getting ability (and the number of opportunities he created) was a valuable asset. During seasons
1942
to
'44
, his 48 matches for Carlton produced 65 goals, including hauls of five (in
round 16, 1942
against Richmond) and six in
round 15, 1943
against North Melbourne.
By
1945
, as the tide of war changed in favour of the Allied forces and Carlton's team was steadily strengthened by players returning from active service, McInnes found himself warming the bench more often. He played 12 games in the home and away season (during which Carlton recovered from a horror start to snatch a finals berth with an
emphatic last-round victory over Footscray
) but was left out of the Blues' victorious
Semi Final
and
Preliminary Final
teams.
The latter was a near-riot at times, sparked by a traditional rivalry and inflamed by a string of ill-tempered incidents. To Carlton's deep relief, our only casualty from that affair was wingman
Fred Fitzgibbon
, who landed a 4-week suspension for striking. Therefore, when Carlton's match committee sat to select the team to play South Melbourne in the 1945 Grand Final, they made just three positional changes.
Jim Mooring
was elevated from the bench to replace Fitzgibbon,
Alex Way
came in at the expense of
Ron Hines
, and Charlie McInnes was included as 19th man.
If the previous week's Preliminary Final was a battle, the
'45 Grand Final
was a war. Promoted by the VFL as the Victory Grand Final, to celebrate the end of six bloody years of conflict, it was later dubbed 'The Bloodbath' – and for good reason. Led by renowned hard men on both sides, Carlton and South Melbourne went at each other in a vicious and spiteful affair that eventually went to the Blues by 28 points. The aftermath - amid public outrage, controversy and a welter of suspensions – lasted for years.
McInnes made it on to the field at half time on that sensational afternoon, when he replaced the luckless
Lance Collins
at half forward. From then on, amid heavy rain, wind, and some of the hardest physical clashes ever seen on a sporting field, the Blues drew away to win by 28 points. Charlie had claimed his second Premiership victory, seven years and a world war after his first.
Although he was tempted by an attractive offer to captain-coach VFA club Brunswick in
1946
, McInnes elected to stay on at Princes Park for one more year. By mid-season however, he had played five of his only six matches off the bench, and the writing was large on the wall. Eventually, he retired as a Carlton player in August of that year - five days before his 30th birthday - when Carlton beat St Kilda by 15 points in a
round 17 match at Princes Park
. He then crossed to Brunswick, and rounded off a memorable football journey with two final seasons at the helm of the VFA Magpies. Later, he coached Minyip in the Wimmera League.
Career Highlights
1938 - Premiership Player
1945 - Premiership Player
Milestones
50 Games :
Preliminary Final, 1941
vs Essendon
100 Games :
Round 2, 1945
vs Hawthorn
Footnote:
In February 2016, Carlton historian Tony De Bolfo wrote an article called "Past players/and officials reunion planned."
To launch the reunion, Charlie McInnes' daughter Laurie and her son Luke, with his children were guests of the club.
To read Tony's article click here>
http://www.carltonfc.com.au/news/2016-02-09/past-playersofficials-reunion-planned
Links
Articles:
A Change of Interchange
Blueseum:
Stat Shot for Charlie McInnes
|
Career Breakdown
|
McInnes' Blueseum Image Gallery